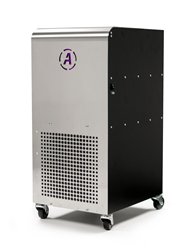 ...we challenged ourselves to move the needle and create something better; something that would bring more relief to more people
Miamisburg, OH (PRWEB) March 31, 2015
The growing concern over the Measles virus spreading further is leaving people looking for options to protect themselves and their children. Meanwhile, millions of Americans are bracing for the spring allergy season and recovering from an ugly flu bug. One company is bringing an option and relief to consumers – Aero One (http://www.aero1UV.com) has launched the first physician-designed air purifier that not only purges allergens from the air but also kills airborne viruses and bacteria.
If anyone understands the value of clean, disinfected air, it's a surgeon. As a former neurosurgeon, Dr. David Kirschman understood that the air inside the operating room was a surface that was not being addressed, and he was concerned about the proliferation of antibiotic-resistant organisms in that environment. So, he got to work designing a hospital unit to both purify air and kill airborne bacteria, viruses and mold called the Tower 1 (T1). Using the first-ever 3D-UV reactor, the T1 became the first unit designed specifically for healthcare facilities.
With the shipment of the first T1, Dr. Kirschman's company Aerobiotix (http://www.aerobiotix.com) is redefining protocols within the operating room to help decrease airborne bacteria levels. It has been tested and proven, by the Center for Microbial Community Systems and Health Research Triangle Institute, that the T1 inactivated 100% of viruses, 99.97% of bacteria, and 99.91% of spores in a single pass through the unit. Today, almost a dozen healthcare facilities across the country use the T1 including Baylor University Medical Center, and the number is growing.
The innovation was not lost on operating room staff involved with the T1 who began to ask if Aerobiotix had considered using the same technology to create a home unit – they wanted one! Knowing that 1 in 5 people in the U.S. suffer from allergies and 20 million suffer from asthma, along with millions who are susceptible to illness from airborne bacteria and viruses, Dr. Kirschman knew that he had something that could truly make a difference in these individual's lives.
In 2014, Dr. Kirschman's team at Aerobiotix took the same T1 technology with 3D-UV reactor and created the smaller Aero One unit for home and office use, becoming the first consumer unit designed by a physician to successfully clean air and kill germs.
"In a market crowded with the same conventional purification devices, we challenged ourselves to move the needle and create something better; something that would bring more relief to more people," said Dr. Kirschman. "The Aero One is more than just another motor pushing air through filters. Combined with 3D-UV disinfection technology and medical grade filtration, it is providing homes with the cleanest, disinfected air possible."
The CDC reports more than 600 cases of measles in 27 states in 2014, the greatest number since the measles elimination was documented in 2000, and 121 new cases since January 1. Add to that the millions of Americans who are still recovering from this winter's brutal flu. While it is still recommended that people take the initiative to wash their hands regularly and cover one's mouth when coughing or sneezing, using the Aero One in controlled indoor environments, such as home, office, daycare centers and the like, can help reduce the spread of these airborne viruses.
Demand is growing quickly for this home solution and Aero One customers are singing its praises. One customer said "It's the finest device of its kind, the Ferrari of home air cleaners." Another said, "My cough was gone the next day."
The Aero One treats 200 cubic feet of air per minute, and is rated to treat up to 800 square feet of air effectively. The AC induction motor is quiet and powerful. It retails for $899.99 including a True HEPA 99.97 medical grade filter to remove non-living contaminants. It also includes a carbon-based pre-filter which eliminates odors. The Aero One and all replacement filters can be purchased through Aero1UV.com.
About Aero One
Aero One is a startup arm of Ohio's Aerobiotix which has redefined protocols on clean air in hospital operating rooms with its patent-pending, physician-designed 3D-UV reactor technology. This same medical-grade technology was converted to be used in a smaller home and office unit, the Aero One, which both eliminates allergens in the air and also kills bacteria and airborne viruses. For more information and to read more reviews, visit http://www.Aero1UV.com
###