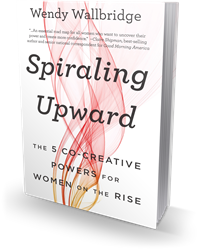 Why do we not see more women leading in corporate America?
Boston, MA (PRWEB) March 31, 2015
Women make up over half of the workforce and control 85 percent of consumer decisions. Global studies conducted by the likes of Goldman Sachs and Columbia University have found that companies employing women in senior positions or in large numbers outperform their competitors on every measure of profitability. Never before have women been so represented as decision makers in all areas of influence, so why do we not see more women leading in corporate America?
Wendy Wallbridge, strategic advisor and founder of On Your Mark Corporate Coaching, has observed over her more than twenty years of coaching that the traditional linear path to success, forged by men, ignores the essential components that are important to women, which are a sense of meaning and fulfillment. She's on a mission to repave this road to success.
Wallbridge's new book SPIRALING UPWARD: The 5 Co-Creative Powers for Women on the Rise (Bibliomotion, March, 31, 2015), provides an alternative to the officially sanctioned linear path that sometimes results in women becoming second-rate versions of men.
"Our culture prizes masculine strengths," Wallbridge says. "Neither masculine or feminine strengths are good on their own. But when the two opposing forces meet, an upward spiral ensues. It's only when women pair masculine strengths in service to their feminine values that unstoppable, authentic power is unleashed."
SPIRALING UPWARD outlines a step-by-step roadmap for professional women to engage life's vicissitudes as doorways to a greater version of themselves. Wallbridge offers the solution for women to achieve success on their own terms by becoming skillful with what she calls the co-creative powers of energy, thoughts, feelings, speech and action.
Recognized for her groundbreaking coaching techniques, Wallbridge has effectively taught her Spiral Up! method to groups of women entrepreneurs, middle managers and executives for over a decade.
Wallbridge notes that when women step onto the spiral path, effort is replaced with flow and they attract the circumstances and experiences needed that align with her values. From there, the next right thing becomes obvious.
Wendy Wallbridge is a strategic advisor and pioneer in the coaching field. As the founder and principal of On Your Mark Corporate Coaching, Wallbridge works with Fortune 100 leaders and teams at organizations such as Intel, Apple, Wells-Fargo and Hewlett-Packard, among others. A popular Tedx speaker and producer of both the TEDxSandHillRdWomen conference and the Women's Evolutionary Leadership Forum, Wallbridge has earned a reputation for establishing breakthrough conversations that enhance the way women work, live, play, and contribute. She regularly presents to organizations such as UC Berkeley Haas School of Business, the Professional Business Women's Conference, The Commonwealth Club, Women in Technology International, The Women's Leadership Forum and the 3% Conference, and also teaches an annual "Leading with Power & Grace" six-month group coaching series for women. For more information, please visit http://www.wendywallbridge.com.
Praise for Spiraling Upward:
"…An essential roadmap for all women who want to uncover their power and create more confidence." —Claire Shipman, best-selling author and senior national correspondent for Good Morning America
"Spiraling Upward leads the inquiry so many women are involved with now: how do we balance our lives in a way that nourishes both our external and internal selves? Articulating the right questions, Walbridge provides some great answers." —Marianne Williamson, author of A Return to Love and many other NYT best-sellers
"Wendy offers a transformational roadmap for women to find and live from their highest calling by activating the best of their feminine and masculine strengths to evolve and flourish." — John Gray, PhD, author of the NYT best-seller Men Are from Mars, Women are From Venus
"Inspired, DIY transformation…Spiraling Upward offers a step-by-step manual for tapping into our essential power, unique brilliance, and deepest joy at a time in our world when our gifts are most needed!"—Marci Shimoff, NYT bestselling author
"In a world that is increasingly social, interdependent and transparent, women have the advantage. Wendy's Spiral Up! roadmap shows women how to seize this moment in order to shape their futures and remake the world."—John Gerzema, author of the NYT best-seller The Athena Doctrine
"Spiraling Upward offers a practical and inspirational solution to the hesitation we often feel as women to put ourselves out there in daring and authentic ways that can touch and change the world. —Lynne Twist, global activist and author, The Soul of Money
Bibliomotion is a book publishing house designed for the new publishing landscape. While many publishers work to retrofit old processes for new realities, Bibliomotion was founded by book-industry veterans who believe the best approach is a fresh one – one that focuses on empowering authors and serving readers above all else. Moving away from the top-down model that has dominated the publishing process for years, we give each member of the team – including the author – a seat at the table from the very beginning and in doing so, work side-by-side to launch and sell the best content possible, making it available in a variety of forms.