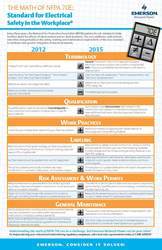 Columbus, Ohio (PRWEB) March 31, 2015
Emerson Network Power, a business of Emerson and a global leader in maximizing availability, capacity and efficiency of critical infrastructure, today announced the availability of a white paper that addresses the recent changes to the Standard for Electrical Safety in the Workplace® from the National Fire Protection Association (NFPA 70E).
Entitled "Understanding 2015 Changes to NFPA 70E," the white paper provides an overview of how the required safety and maintenance changes most impact major power users, discusses the challenges to implementing electrical safety programs, and shares best practices for creating an effective program for electrical power infrastructures.
"Electrocution and arc flash incidents kill more than 400 people every year in the United States, and the problem isn't going away," said Tom Nation, vice president and general manager, Emerson Network Power's Electrical Reliability Services business. "That's why the 70E standard is increasingly stringent and updated every three years. Complying is one of the best ways facility managers can protect their employees and equipment while avoiding citations and fines."
Building on the safety, training and maintenance requirements of the previous edition, NFPA 70E 2015 became effective August 2014, and requires facility managers to take action to revise and update safety policies. Updates covered in the white paper include changes regarding terminology, training requirements, use of engineering analyses, labeling, battery-related risk assessments, and best practices for compliance.
Download "Understanding 2015 Changes to NFPA 70E," or for more information on Emerson's Electrical Reliability Services visit http://www.EmersonNetworkPower.com.
About Emerson Network Power
Emerson Network Power, a business of Emerson, delivers software, hardware and services that maximize availability, capacity and efficiency for data centers, healthcare and industrial facilities. A trusted industry leader in smart infrastructure technologies, Emerson Network Power provides innovative data center infrastructure management solutions that bridge the gap between IT and facility management and deliver efficiency and uncompromised availability regardless of capacity demands. Our solutions are supported globally by local Emerson Network Power service technicians. Learn more about Emerson Network Power products and services at http://www.EmersonNetworkPower.com.
About Emerson
Emerson, based in St. Louis, Missouri (USA), is a global leader in bringing technology and engineering together to provide innovative solutions for customers in industrial, commercial, and consumer markets around the world. The company is comprised of five business segments: Process Management, Industrial Automation, Network Power, Climate Technologies, and Commercial & Residential Solutions. Sales in fiscal 2014 were $24.5 billion. For more information, visit http://www.Emerson.com.
###