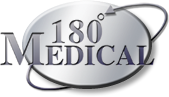 Oklahoma City, OK (PRWEB) March 31, 2015
180 Medical, a catheter and ostomy disposable medical supplies provider, is proud to announce that it is currently accepting applications for the 180 Medical College Scholarship Program. The application period for the 2015 award started on January 1st and will run until June 1st. There will be seven total scholarships and each award will be $1000.
In order to qualify for the college scholarship program, the student must be a United States resident attending a two-year school, four-year school, graduate school in the fall. In addition to that, the student must be under a physician's care for a spinal cord injury, spina bifida, transverse myelitis, neurogenic bladder, or an ostomy (ileostomy, urostomy, or colostomy).
As a medical supplies provider, 180 Medical has many customers who have the aforementioned medical conditions. The medical costs involved can sometimes add a burden on them or their families, which can also make it difficult for an aspiring student to attend and pay for college. In order to offset these costs, 180 Medical developed the scholarship program to give these students the opportunity to pursue higher education and their dreams.
180 Medical has been named one of the best places to work for in Oklahoma, and its CEO, Todd Brown, was given the honor of being one of Oklahoma's most admired CEOs. 180 Medical prides itself in delivering the best customer service in the industry and is proud to give back to its customers. Potential applicants are encouraged to visit http://www.180medical.com/scholarships to download the application and learn more about the scholarship program.
Company/Organization Info:
180 Medical is one of America's fastest growing home delivery providers of sterile-use catheters, ostomy and urologic disposable medical supplies. Based in Oklahoma City, the company is dedicated to meeting the supply needs of customers with chronic medical diagnoses such as urinary incontinence, spinal cord injuries, spina bifida, colon cancer, Crohn's disease and many other conditions that require catheterization and ostomy supplies. 180 Medical is a subsidiary of ConvaTec, a leading global medical products and technologies company. For more information, please visit http://www.180medical.com.