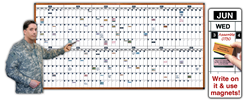 We are an air-refueling wing. All cross-country flights are posted on the board so we know our exact responsibilities. If it is not on the board, we do not fly. We have always used one of your boards
Macedon, NY (PRWEB) April 01, 2015
Whether you're a private in a weapons unit, a lieutenant keeping track of a large number of maintenance projects or a captain responsible for knowing logistical details, it is vital for military personnel to have a system in place for planning, organizing and communicating. Many military units use the new Magnatag® GiantYear® magnetic, dry-erase whiteboard calendar to plot their operational activities.
"We love our new Magnatag® OverView® magnetic calendar board. We post all our training classes on it," said a lieutenant in the U.S Army stationed in Fort Meade, Maryland. "The planned classes go on the yearly part and the actual schedule goes on the large months at the top. The notes area is handy for announcements and last minute changes."
Even for training purposes, military personnel use Magnatag's calendars to stay on track with their daily projects and responsibilities.
"We are an air-refueling wing. All cross-country flights are posted on the board so we know our exact responsibilities. If it is not on the board, we do not fly. We have always used one of your boards," said a Captain, in the NY Air National Guard from Niagara New York.
For planning, scheduling, and tracking key events and activities, the new Magnatag® GiantYear® is one of an entire family of magnetic calendar systems available for GSA purchase, all of them built for a lifetime of daily use. Magnatag has served hundreds of military members a year to assist them with their organizational purposes.
"Thank you very much for your excellent support and communication. First, let me say that you have a customer for life," said a captain in the U.S Army. "I fully intend to make use of your company in the future. I am quite confident the products your company offers will be of value to me in the future. Thank you again and I look forward to contacting you when I return from Iraq."
Magnatag® Visible Systems is a veteran-owned company with over 42 years of experience, offering more than 2300 information display products, all built and shipped within 3 business days. Magnatag® been a GSA vendor for over three decades, too, meeting the visible system needs of military and federal agencies. For more information, visit http://www.magnatag.com/OYR
News Summary: Many of Magnatag's military customers use the Magnatag® GiantYear® magnetic, dry-erase whiteboard calendar for their planning system.
Magnatag Visible Systems, designs, manufactures and direct-markets over 2,300 magnetic printed whiteboard kits, calendar planners, maps, custom boards, WhiteWalls, RotoCube Bulletin Towers, magnets, whiteboard accessories and other information display systems for industry, hospitals, schools, business and government. Call a Visible Systems Specialist at 800-624-4154 or visit their website at http://www.magnatag.com.