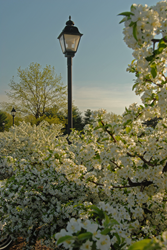 Spring is a great time to hit the trails... Franklin County is home to many state parks ready to be explored either by foot or by wheel. It's all part of the experience.
Franklin County PA (PRWEB) March 30, 2015
After a long, cold winter, Franklin County is gearing up for spring festivals and family outings. Shake off the winter blues at this year's Springfest on May 9 in downtown Mercersburg, Enjoy more than one hundred, arts, crafts and jewelry vendors. Sponsored by the Tuscarora Area Chamber of Commerce, the event will feature live musicians throughout the downtown for visitors to enjoy as spring finally comes to Franklin County!
For children, Springfest has free pony rides, a rock wall, and the large food court with homemade Amish treats. This event takes place from 9 a.m. to 3 p.m.
On April 18 from 10 a.m. to 4 p.m., explore the history of Franklin County during Spring into History.Spring into History is a ramble to get outdoors, shake off cabin fever, and learn about history. Travel trails of history and discover secret hiding places of the Underground Railroad, Civil War sites and hallowed grounds. Begin at any point and select what sites to visit. Download the guide book here.
New to Spring Into History in 2015 is Flat Ben. Modeled after Flat Stanley, a book character from the early 60's that travels around and documents his exploits, Flat Ben is looking to explore Franklin County and needs the help of visitors and residents to get his picture taken with as many landmarks as possible. Anyone visiting four Spring Into History sites will be entered into a prize drawing for a basket of Franklin County goodies--one for adults and one for kids. For details, click here.
Spring is a great time to hit the trails. Like to bike or run? What about hike? Franklin County is home to many state parks ready to be explored either on foot or by wheel. It's all part of the experience.
Shaded and open trails run right through Franklin County and in the mountains, more challenging trails wait for the experienced and beginning runners. For a leisurely hike, Franklin County Visitors Bureau recommends Caledonia State Park, Michaux State Park, Pine Grove Furnace State Park or Buchanan's Birthplace State Park with trails for the day-hiker and thru-hiker alike. With picnic tables, camping areas, and areas for activities like horseshoes or fishing, the whole family can enjoy an outdoor day in Franklin County.
As the weather turns nice, don't forget to check out the roadside stands, offering spring vegetables and strawberrries. Country Creek Produce on Etter Road in Chambersburg offers let's customers pick their own strawberries. The Drying Shed on Newcomer Road in Chambersburg is another self-picking site. From farm to table, Franklin County is home to some of the freshest food you can find.
Franklin County Visitors Bureau is holding a photo contest to find the cover of the 2015-2016 Franklin County Visitors Guide. What is the essence of Franklin County? Find it, photograph it and enter it in Cover It. Photos are being accepted until May 1. Not only is the winning photo the cover of the visitors guide, cash prizes are being awarded. Get details and enter online at http://www.DoDineStayFranklinCountyPA.com/photo.
As the weather turns nice, remember to explore Franklin County and its many great moments.
The Franklin County Visitors Bureau invites all to explore Franklin County PA and enjoy the history, arts, recreation, natural beauty, fresh foods and warm hospitality of communities like Chambersburg, Greencastle, Mercersburg, Shippensburg, and Waynesboro. Franklin County PA is located just north of the Mason Dixon Line and an easy drive to Washington DC, Philadelphia, and Pittsburgh. Discover more….plan your visit at ExploreFranklinCountyPA.com, by contacting 866.646.8060, 717.552.2977 or by paging through the online visitors guide.