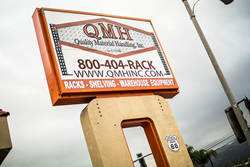 "We have seen first-hand the pain this strike has caused our clients." QMH Warehouse Manager, Oscar Pinto
Azusa, CA (PRWEB) March 30, 2015
Quality Material Handling, Inc. is situated to help relieve pressure placed on businesses across Southern California as the nation recovers from the nine-month labor dispute that, according to Breitbart.com1 and USA Today2, caused $2 billion a day in damage to the U.S. economy. As the local business community deals with the huge pile-up of containers and inventory that has been tied up in ports, Quality Material Handling (QMH) will contribute its warehouse solutions expertise to help with logistics and moving products quickly to sales floors.
The International Longshore and Warehouse Union (ILWU) strike caused a stockpile said to have left produce rotting in seaports from Tacoma to San Diego.
"We have seen and felt first-hand the pain this strike has caused our clients," said QMH Warehouse Manager Oscar Pinto. "We strive to be partners with our customers and have spent many hours preparing to hit the ground running with increased equipment inventory, warehouse logistical solutions and consultations to relieve the headaches this backlog has caused."
Many who rely on products coming from the import-export industry are struggling to stay afloat. It will take a concerted community effort to restore services and ensure economic recovery for the short and long haul as the normal freight-moving frenzy returns to Southern California.
QMH will contribute customer-centric integrated material handling products, services and technology to the economy's recovery efforts. The company has exponentially increased its stock of products in areas including unloading containers and designing or redesigning warehouses for reduction or expansion of existing storage systems. New and used equipment to easily move inventory is available for rental or purchase including yard ramps, dock boards, fork lifts, pallet jacks and racks (upright, wire decking and load beams), boltless shelving and more. Services also include equipment buy-backs, tear-down, complete clean-ups and repairs. Free consultations and equipment financing are available.
"Our knowledgeable staff can ease some of the financial and logistical pressure by directing people to the most appropriate products and warehouse solutions," said Pinto. "QMH is a licensed contractor, so we can help redesign existing space or facilitate relocation to smaller or larger headquarters."
About QMH Quality Material Handling, Inc.
QMH is a leader in material handling equipment distribution and services. The company's focus is providing a one stop shop for their customers through expertise and quality delivery from an array of integrated material handling system products. Moreover, QMH has ongoing knowledge base of 24 years of experience coupled with leading edge technology and supportive solutions. QMH is committed to stellar customer service and building long-term customer-centric relationships. Founded by the Pintos in 1991, as an intimate start-up, this family-owned corporation, headquartered in Azusa, has one mission: to be known as the single source for customers' material handling needs and services, delivered with distinguished personal care and unequaled expertise. Learn more at http://www.qmhinc.com and http://yardrampsla.com/
1. Chriss W. Street, Breitbart.com: Feb. 22, 2015: http://www.breitbart.com/big-government/2015/02/22/west-coast-dock-strike-settles-just-in-time-for-refinery-strike/
2. Elizabeth Weise/Chris Woodyard, USA Today: Feb, 21, 2015; http://www.usatoday.com/story/news/2015/02/20/west-coast-ports-dispute-union-labor-secretary-tom-perez/23744299/