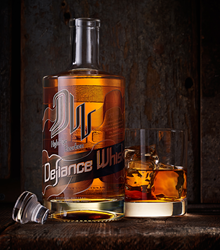 We raise our glasses to anyone who dares to be different by declaring their independence and cultivating new traditions. - Daniel Fort
SAINT LOUIS, MO (PRWEB) March 30, 2015
How do you create a new, standout whiskey when giants like Jim Beam and Makers Mark still prevail? Take time in production, market it to a new target audience and put a great story behind the brand name. St. Louis' Defiance Whiskey is doing just that, and catching the attention of some of the country's top competitions. The brand was just awarded a bronze medal in the San Francisco World Spirits Competition, recently won a silver medal at the American Craft Spirits Association event in Austin, Texas, and continues to make waves in the bourbon world.
Founder Daniel Fort and his father Garth Fort have developed this 90-proof high rye bourbon that marries the best of old and new. The whiskey is produced with the latest in distillation technology and equipment before being traditionally aged in big Missouri white oak barrels, and then painstakingly finished in small batches. The result is a whiskey that has intriguingly complex rye notes on the front end and a smooth, almost sweet finish that's very approachable.
The name "Defiance" said everything about the Forts' goals. When they started developing the bourbon four years ago, they wanted it to represent a defiant attitude and passion. "We don't want to be just another Southern-branded, traditional whiskey," Daniel Fort says. He said they were looking to create a new, broader audience for bourbon...not just the 50-plus male demographic of yesterday, but also millennials, women and beyond.
The name Defiance is also a tribute to Daniel's great aunt, Cornelia, a World War II female pilot. After a day of piloting a World War II fighter plane, Cornelia was known to enjoy nothing more than the company of good friends and whiskey, often a scotch and soda. Cornelia was the embodiment of defiance in her day. Her story includes an encounter with the Japanese air fleet during the attack on Pearl Harbor, and sadly ends with the ultimate sacrifice as she became the first female pilot in American history to die on active duty. "Cornelia truly embodied the spirit of Defiance Whiskey because she trained hard and followed her passion rather than the crowd." explains Daniel.
ABOUT DEFIANCE WHISKEY
Defiance Whiskey is a brand new bourbon with Tennessee traditions and strong St. Louis ties, aged in big Missouri barrels and bottled and finished in nearby Ste. Genevieve, MO. Founders Daniel and Garth Fort worked with local experts to develop a 90-proof high rye using innovative distilling technology, traditional big barrel aging and timeless care during the finishing stages. The result? A whiskey that's smooth, sweet and approachable for modern drinkers. Defiance Whiskey, first released in September 2014, took off quickly among local restaurants and retailers. Lohr Distributing Company recently picked up Defiance Whiskey, giving it statewide distribution. At Defiance Whiskey, we believe in defiance as a way of life. We raise our glasses to anyone who dares to be different and declares himself an individual, and welcome them to join us in this adventure. Defiance is a state of being, explore it on Facebook,Instagram and Twitter.