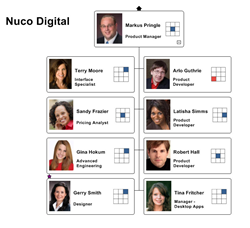 OrgChart 8 makes our re-org communications faster than ever
Novato, CA (PRWEB) April 01, 2015
OrgChart 8 Professional and Platinum are complete organizational charting solutions that provide the ability to quickly and accurately visualize the impact of organizational changes. The software has been designed to model organizational structure that aligns a company's workforce with its goals, streamline workflows and help achieve the optimal productivity from work teams.
OrgChart 8 introduces three new features which enhance this product as a workforce planning and organizational charting tool.
1. Smart Fields
2. Auto Conditional Formatting
3. Dynamic Interactive Reporting
Smart Field formatting customizes boxes to indicate data driven criteria like performance, 9-box profiles, flight risk or skill, enabling a more comprehensive view of team talent.
Auto Conditional Formatting allows for instant visualization of the impact changes have to a team. Employees can be instantly highlighted based on a data condition such as open position, location, training compliance, and flight risk, etc.
Dynamic interactive reporting leverages your HR data for planning scenarios. The creation of reorganization planning iterations is clear when selecting any individual or branch of the organization to see the breakdown for headcount, salary, budget, critical positions or open positions.
"With change happening everyday OrgChart 8 lets organizations create, model and visualize their organization" said Joe Kolinger, Founder and CTO of OfficeWork Software. "Because of this OrgChart 8 introduces intelligent org charts that help organization stay ahead of the curve and effectively align their corporate and workforce goals."
To learn more about OrgChart 8 products, visit our website: https://www.orgchartpro.com/products
# # #
About OfficeWork Software
Headquartered in Novato, California, OfficeWork Software, LLC is a leader in Workforce visualization and charting software solutions and provides services that help organizations operate at peak efficiency. Contact OfficeWork Software at 1-800-477-1408 or +1-415-462-1313, email us at sales(at)officeworksoftware(dot)com, or visit http://www.orgchartpro.com,