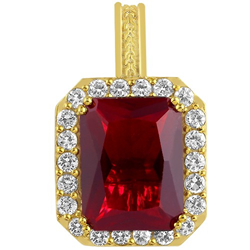 New York, NY (PRWEB) March 31, 2015
The master craftsmen at Avianne & Co. are constantly creating and designing exciting new pieces to bring their loyal customer's ideas to life. Initially designed for Birdman, co-founder of Cash Money Records, the team are now crafting these notorious statement pieces in the finest quality of sterling silver.
Inspired by royalty reflected by elegance, class and most importantly power, the team at Avianne & Co. designed this passionate unisex collection to make people feel powerful as Kings and Queens. Since its release, the collection has received nothing but positive attention. The collection can be seen on A-list musicians such as Future, Drake, Young Thug, Justin Bieber, Sean Paul and award-winning, rapper, singer-songwriter Nicki Minaj.
The primary sterling silver collection currently consists of micro pendants, large pendants, and rings. These pieces are crafted in the bests quality of sterling silver then rhodium gold plated in a choice of lustrous yellow, rose or white gold. Center stone is a semi-precious gemstone surrounded by semi-precious icy crystals. Weight of the crystals starts from 1.50 carats to 3.00 carats.
Without any design alterations, these prominent pieces are now available for a significantly lower price, pendants start from $400 and rings starts from $1,000. For further information on this collection please visit http://www.avianneandco.com/sterling-silver-royal-collection or email kevi(at)avianneandco(dot)com