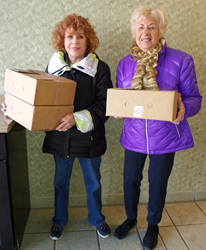 Jewish Family Service will hold its fifth annual Wheels for Meals – A Ride to Fight Hunger on Sunday, June 14 to raise funds to sustain its mission to fight hunger.
Teaneck, N.J. (PRWEB) April 01, 2015
Retiree Fran Halman-Migdal of Fort Lee has been driving for the Kosher Meals on Wheels program for about 10 years. Five years ago, her neighbor and friend, Bea Tendler, got curious about the volunteer opportunity. When Halman-Migdal explained what's involved and who she delivered to, Tendler knew she had to add the meal delivery to her volunteer activities, and joined her friend on the route. The women—who are both in the age group of the recipients they serve—deliver every Friday for Jewish Family Service of Bergen and North Hudson (JFS) bringing meals to six seniors in Cliffside Park and Edgewater.
The Teaneck-based JFS delivers more than 28,000 nutritionally balanced meals a year to homebound seniors and disabled residents throughout Bergen and northern Hudson counties, in addition to providing many other vital services. The organization will hold its fifth annual Wheels for Meals – A Ride to Fight Hunger on Sunday, June 14 at the Jewish Home at Rockleigh, to raise funds to sustain its mission to fight hunger. Area cyclists are invited to register to ride at http://www.ridetofighthunger.com; a variety of courses will be available for cyclists of all abilities.
Finding personal meaning in a meaningful cause
Like many other volunteers, Halman-Migdal said she got involved with the JFS Meals on Wheels program because of a personal connection. "My mother used to get meals on wheels when she lived in Brooklyn; I was relieved because I knew she was getting hot meal every day." When she bumped into someone delivering in her building one day ten years ago, she became interested and asked if more drivers were needed. She took the number and called to sign up.
"When I retired it was very difficult to not be doing something," explained Halman-Migdal. "I used to work in human resources for Volunteers of America so I'm tied to the volunteering spirit."
Volunteers often cite personal satisfaction as a benefit of their volunteer participation, which is echoed by the two women. "I get a wonderful, wonderful feeling when doing this and seeing the smiles from the people we deliver to," said Tendler. "I love it."
Halmam-Migdal agrees. "The people on our route really look forward to seeing us. Even if we spend just a couple of minutes talking to them, they appreciate it, and I get a great feeling from doing good for others."
The energetic pair also volunteer every Wednesday in the thrift store operated by the National Council of Jewish Women in Bergenfield. Of their commitment to give their time to good causes, Tendler exclaimed, "We are the volunteer dynamic duo!"
They also proudly report that their commitment to Kosher Meals on Wheels is steadfast regardless of the weather and in spite of their age.
"I'll drive in any weather and we get the meals to our clients no matter what," said Halman-Migdal. "We delivered during a snowstorm once when the post office didn't even deliver the mail."
When asked if being Kosher Meals on Wheels volunteer is what she expected it to be, Tendler said no.
"It's even better than I thought it would be. I get more of a positive feeling every time I do it. The people are so appreciative and my children are so proud of me for being involved."
For more information about Jewish Family Service of Bergen and North Hudson, or to become a Kosher Meals on Wheels driver or other volunteer, visit http://www.jfsbergen.org or call (201) 837-9090.
About Jewish Family Service
For over 60 years, the mission of Jewish Family Service has been to strengthen and preserve the well-being of individuals and families, and to help them effectively meet the challenges and changes through life. The non-profit organization fulfills its mission by providing mental health services, a range of senior care services (including kosher meals on wheels, friendly visitors, and Holocaust survivor support), support groups for various constituencies, emergency aid and much more. For more information visit http://www.jfsbergen.org.
About Wheels for Meals
Now in its fifth year, this ride/walk fundraiser was conceived by then 16-year-old David Feuerstein as a way to give back to the community. The event raises critical funds to fight hunger in Bergen County, with proceeds supporting the JFS Meals on Wheels program and its food pantry. The event draws riders, sponsors, vendors and spectators from throughout Bergen and neighboring Rockland County. Details and registration information are at http://www.RidetoFightHunger.com.