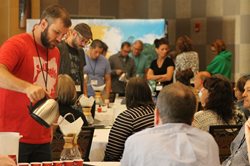 We sponsor Independents Day to give coffee house owners a way to learn, connect and grow with other coffee entrepreneurs. - Greg Ubert
Columbus, Ohio (PRWEB) March 30, 2015
Ohio coffee roaster Crimson Cup Coffee & Tea will host its 2015 Independents Day July 30 to Aug. 1 in Columbus, Ohio. More than 60 independent coffee house owners and baristas from across the country are expected to attend. The event kicks off Friday night at Crimson Cup headquarters, 700 Alum Creek Drive, and continues Saturday at the Ohio Union on the Ohio State University campus.
"We sponsor Independents Day to give coffee house owners a way to learn, connect and grow with other coffee entrepreneurs," said Crimson Cup Founder and President Greg Ubert. "This conference refreshes and revives the independent business spirit and provides insight into what's new and what's working in nearly every aspect of coffee shop operations."
The conference will feature presentation by coffee house owners, Crimson Cup staff and outside experts on developments in the coffee industry. Topics include single-origin and direct trade coffees, hand-pour brewing methods, coffee shop marketing and coffee house operations.
The annual conference is just one of the benefits provided under Crimson Cup's Seven Steps to Success coffee franchise alternative program. Based on Ubert's book,Seven Steps to Success in the Specialty Coffee Industry, the program teaches everything an entrepreneur needs to run a specialty coffee business.
"We offer everything a coffee shop franchise does – and more – but without franchise fees, royalties or business restrictions," Ubert said. "Our program covers all the bases, from choosing a location to hiring and training your staff, setting business hours and much more. Plus, we offer ongoing support to make sure our customers keep growing."
The coffee franchise alternative includes comprehensive training, marketing materials, menu ideas and much more – all designed to help reduce costs, increase profits and eliminate potential headaches.
"We're proud to support over 200 coffee shop owners across the country," Ubert said. "In 2014 alone, a dozen independent coffee houses joined our community."
To learn more about Crimson Cup's Seven Steps program or to schedule an initial consultation, call 888-800-9224 or visit the Crimson Cup website.
About Crimson Cup Coffee & Tea
Since 1991, Crimson Cup Coffee & Tea has hand-roasted specialty coffee in Columbus, Ohio and taught independent business owners how to be successful through its coffee shop franchise alternative program. Sustainably sourced Crimson Cup coffee is available through a network of more than 350 independent coffee houses, grocers, college and universities, restaurants and food service operations across 29 states, as well as the company's own Crimson Cup Coffee House in the Columbus suburb of Clintonville. For more information, visit crimsoncup.com.