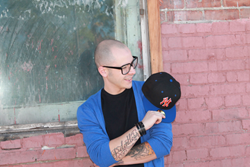 It's about including your customers in your story, letting them in on your brand's ethos and journey.
Los Angeles, CA (PRWEB) March 31, 2015
HypeLife Brands, a leading branding and marketing agency aimed at helping brands connect with Millennials, announced a shifting of the tides in social media marketing last week. For brands targeting the much-coveted Generation Y demographic, HypeLife Brands urged brands to consider a slow shift away from Facebook to Instagram, the image-sharing app purchased by none other than Facebook a couple of years ago.
Rising profits and an expanded ad platform make Facebook an obvious choice for most marketers when looking to get maximum eyes for their brand. But according to Curt Cuscino, Founder and Principal of HypeLife Brands, the goals are different when seeking a connection with Generation Y. "At some point, too big can become a problem," says Cuscino of Facebook. "Especially when trying to reach a Millennial audience that covets personal connection to brands.
"But with Instagram, you've got a platform founded on authenticity and the beauty of the things around us that help tell our individual stories," he continues. "Those are the things that matter most to Millennials, and the things they seek out in brands."
The point for HypeLife Brands is that, contrary to popular belief, Millennials are not averse to marketing. They just want marketing with which they can make a deep connection with a brand that goes beyond a surface level offer, product shot or sale. In fact, some of the best marketing on Instagram may not seem like marketing at all. Several outdoor brands simply post striking pictures of nature and inspiring quotes. Some of the leading athletic brands post pictures of empty gyms, blacktop basketball courts or athletes in training. At no point is the brand even mentioned in the ad, and for Cuscino, that hits right at the point of it all.
"Those are the brands that are doing it right," he says. "It's not about telling everyone who you are anymore – they know that already. It's about including your customers in your story, letting them in on your brand's ethos and journey. That way, it's much easier for them to make that deep, personal connection with the brand.
"Instagram was founded on this authenticity, on the genuine celebration of what's around us. Brands that realize this will find great success with Millennials on Instagram, and would be wise to consider focusing more of their efforts there rather than the company that now owns them."
##
HypeLife Brands is a leading branding and marketing agency focused on helping brands engage Millennials (Generation Y). Key client industries include apparel, film and entertainment, start-up entrepreneurs, recording artists, and world-changers. Founded in 2001, the agency has offices in Los Angeles and New York City.