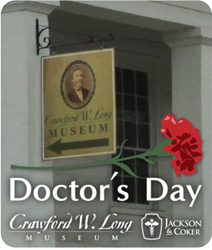 Jackson & Coker is proud to work with physicians who are making a lasting impact on countless lives. --Sandra Garrett, president, Jackson & Coker.
Atlanta (PRWEB) March 30, 2015
Jackson & Coker, a national physician staffing firm, is celebrating National Doctor's Day March 30th by partnering for the second year with the Crawford W. Long Museum to honor physicians.
Doctor's Day marks the day in 1842 when Dr. Crawford Long performed the first surgery with the aid of anesthesia. Prior to that, nitrous oxide and ether were commonly used for entertainment at parties, called "frolics." During these parties, Dr. Long recognized a trend: party-goers weren't feeling pain when injured.
"Dr. Crawford Long used his intuition to make a huge impact for both doctors and patients," said Sandra Garrett, president of Jackson & Coker. "His story mirrors the dedication to advancements in medicine that we see in the physicians we work with every day."
In 1933, the first Doctor's Day was held in Barrow County, Georgia, due to the efforts of Eudora Brown Almond, a local physician's wife. Jackson & Coker continues to celebrate the holiday each year to recognize the contributions and sacrifices that doctors make each day. Associates from Jackson & Coker deliver red carnations – the symbol of Doctor's Day – to physicians across Georgia.
"Jackson & Coker is proud to work with physicians who are making a lasting impact on countless lives," Garrett said. "Although the tools and technologies they work with have changed, doctors' dedication to healing people is unwavering."
To learn more about Dr. Crawford W. Long and his story, click here.
About
Jackson & Coker is among the largest and most well-recognized physician staffing firms in the United States, bringing together permanent and temporary (locum tenens) physician placement under one entity. The firm is dedicated to uniting top physicians with the hospitals and medical facilities that need them, ensuring patients have access to life-saving healthcare in their own communities.
Since the late 1970s, Jackson & Coker has placed thousands of physicians with clients ranging from rural clinics to the United States' largest healthcare systems. The firm is headquartered in Atlanta with offices in Dallas and Denver. At Jackson & Coker, "We focus on the patient's true hero – you – physicians and facilities." For more information, visit JacksonCoker.com.