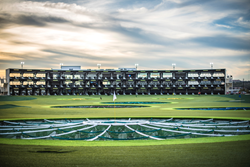 Corey Lines, Qualite Direct Sales Representative comments,"... We are excited to provide the highest quality, cost effective lighting system to all of TopGolf's extraordinary facilities for their communities to enjoy extended hours of fun"
Hillsdale, MI (PRWEB) April 21, 2015
13 Topgolf facilities are now successfully attracting golfers across the US, including Topgolf locations in:
Allen, TX / Austin, TX / The Colony, TX / Dallas, TX / Spring, TX / Alexandria, VA / Alpharetta, GA / Chicago, IL / Scottsdale, AZ / Tampa, FL / Gilbert, AZ / San Antonio, TX / Houston, TX
Additional facilities are currently planned for KS, OK, CA, NV, VA, CO, GA, IL, TX and UT. Qualite and Topgolf began their relationship at the Topgolf facility in Colony, TX, which opened in November, 2013. facility featured Qualite's GreenStar system, showcasing characteristics such as light dimming capabilities, quicker start-up/restart times, longer lamp life, and energy savings…all to meet and exceed their customers' needs.
Qualite's GreenStar solution at Topgolf locations employs electronic ballast technology to achieve continuous light levels without the need for time powered adjustments or future power increases. The advanced control system provides customers with all the information needed to truly manage a lighting system at optimal light and energy levels. Qualite offers a cost-effective, state-of-the-art system that provides greater energy-efficient lighting solutions.
Corey Lines, Qualite Direct Sales Representative comments, "Qualite continues to enjoy our involvement with each of Topgolf's high tech facilities. We are excited to provide the highest quality, cost effective lighting system to all of Topgolf's extraordinary facilities for their communities to enjoy extended hours of fun" Qualite is the preferred lighting provider for Topgolf (http://www.topgolf.com).
About Qualite Sports Lighting
Qualite has been the sports lighting partner for high schools, colleges, parks and recreation departments, and minor and major league sport franchises for over 30 years. In addition, Qualite has partnered with Ephesus Lighting to provide the highest quality LED technology to sports facilities, including the host stadium to the 2015 Super Bowl, The University of Phoenix in Glendale, AZ. Qualite's Q-LED system is the most energy efficient, highest Lumen output LED lighting solution in the sports lighting industry.