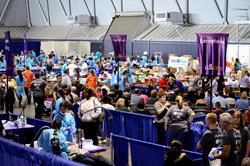 Dentists are committed to providing oral health care to Californians in need, but the state must help us. We can't do it alone.
Sacramento, Calif. (PRWEB) March 30, 2015
Hosted by the California Dental Association Foundation and CDA, the CDA Cares free, two-day dental clinic in Sacramento provided $2 million in charitable dental services to 2,080 people March 27-28.
In addition to providing free dental services and oral health education to Californians who experience barriers to care, CDA Cares educates the public and policymakers about the importance of good oral health and the need for an adequately funded dental safety net, which includes a well-functioning Denti-Cal program and a state dental director who can develop cost-effective, quality programs to improve the oral health of Californians.
"These events have had a tremendous impact across the state," said CDA President Walt Weber, DDS. "Dentists are committed to providing oral health care to Californians in need, but the state must help us. We can't do it alone."
While the final number of procedures provided at CDA Cares is being tallied, preliminary estimates indicate nearly 2,700 tooth extractions were necessary.
"Sadly, the reality is that many of these extractions could be avoided with preventive care. Unfortunately, the state has an unmet responsibility, and what we're seeing here is exactly why the state needs to take action this year to fix its chronically underfunded Denti-Cal program, which is failing to ensure access to care for millions of Californians," said Weber, referring to the state's recent Denti-Cal audit that highlights serious problems and deficiencies.
During the two-day event, dentists and dental professionals provided nearly 14,000 dental procedures, including fillings, extractions, cleanings and oral health education. Volunteer technicians in the clinic's dental lab area worked to provide 377 complete and partial dentures and repairs.
"From setup to breakdown, the entire CDA Cares experience is so rewarding," said CDA Foundation Chair Don Rollofson, DMD. "People are leaving here with relief from pain and infection, improved opportunities for employment and a better understanding of the importance of maintaining their oral health."
Nearly 1,800 volunteers donated their time and services at the event, including 1,015 health professionals – dentists, dental hygienists, dental assistants, nurses and lab technicians – as well as hundreds of community volunteers who assisted with registration, translation, data entry and escorting patients.
The California Dental Association Foundation is planning another CDA Cares event in Fresno Oct. 2-3.
Visit cdafoundation.org for information on CDA Cares and how to register to volunteer.
About the California Dental Association Foundation
The CDA Foundation was formed as the philanthropic affiliate of the California Dental Association in 2001 with the mission to improve the oral health of Californians by supporting the dental health profession and its efforts to increase access to care for the state's most vulnerable people. The CDA Foundation works with experts in the dental profession, private business, academic institutions and government to produce programs that increase access to care; promote prevention, education and intervention; advance health policy research; and build a sustainable oral health workforce. http://www.cdafoundation.org.