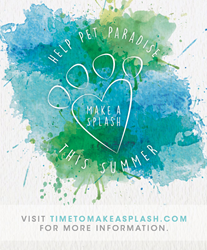 Jacksonville, FL. (PRWEB) March 31, 2015
Pet Paradise Resort is kicking off its second annual Life is Short, Make a Splash campaign with a Splash Bash contest on April 18 to benefit a local charity of choice.
Pet Paradise will have 16 participating locations that will open their pools to small and large dogs to see which ones will make the biggest splash. Entry is free for participants. Following the Splash Bash event, the premier pet boarding company plans to donate $10,000 to a local charity of choice.
Pet Paradise is reaching out on social media this summer to encourage Facebook followers to nominate and vote for their favorite 501(c)3 nonprofit organization. Charity nominations will be collected on the Pet Paradise Facebook page between May 1-31, and then each accepted nomination will be posted on June 1. Voting will be active for two months from June 1 to July 31 and followers will be limited to one vote per person per day. The charity with the most votes will be the winning recipient of Pet Paradise's Life is Short, Make a Splash $10,000 donation. The big announcement will be made on August 3.
To learn more on how you can help Pet Paradise make a splash this summer, please visit http://www.timetomakeasplash.com.
About Pet Paradise: Headquartered in Jacksonville, Fla. with more than 400 employees, Pet Paradise was formed in 2002 and currently has 20 facilities in operation of which nine are located throughout Florida; three are in Houston, three in the north Dallas area, two in North Carolina, and one each in New Orleans, Atlanta and Phoenix. At Pet Paradise our mission is to create a safe, clean and fun environment for our four-legged guests. The Pet Paradise facilities include spacious dog and cat boarding suites as well as day camp and grooming services. For more information about each resort, visit http://www.petparadiseresort.com or visit our social media sites: Youtube, Twitter, Facebook and Pinterest.