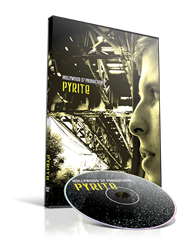 It ironically resulted in us calling our FIGHT THE POWER trailer the BANNED trailer.
Chicago, IL (PRWEB) March 31, 2015
Hollywood 27 Productions proudly releases the "Fight the Power" trailer for Pyrite, one of their movies about racism. The film takes place in Chicago, and when Hollywood 27 went to promote the film on local network TV, an interesting thing happened...
"We tried to run the trailer as a test commercial on all the major networks in Chicago," says the film's writer and director Eric Battersby, "and everything went smoothly with ABC, NBC, and FOX..."
When asked to elaborate, Battersby adds, "The situation ironically resulted in us calling our "Fight the Power" trailer the "Banned" trailer, for reasons you can learn about in detail at Hollywood27.com. Our film is about fighting racism, which is a big deal in the Chicago area, and that's where I'm from. That's why I made the film."
The company released the film on DVD several months ago, but looks to do a full marketing campaign in the summer of 2015. Battersby is also the President of Hollywood 27, and currently works full time at his new nonprofit company, Change The World Films, home to its flagship program, The Walk a Mile Project.
"We still have some final work to do in promoting Pyrite, there is no doubt," Battersby continues, "but The Walk a Mile Project is a huge international, long-term endeavor – currently investigating the GMO controversy – and it's taking up 100% of my time right now. Once Walk a Mile and Change The World Films reach their steady state later this year, we'll finally do our full Pyrite promotion – especially now that we have all these extra free tools for our audience to really expand their viewing experience."
According to Hollywood 27's Pyrite Offer Page, those tools now include a "Host a Pyrite House Party" Kit, a Pyrite Litmus Test for racism, and optional filmmaker Q&As as well. Click here for more information on the Pyrite Offer. And to view the "Fight the Power" trailer, visit Hollywood27.com.
About Hollywood 27 Productions: Formed in 1998, Hollywood 27 Productions is an independent film company focused on ending racism. With their feature film "Pyrite"(complete with free supplemental materials for hosting viewings and discussing racism), the End Racism Blog, and non-profit programs (run via Change The World Films), Hollywood 27 is one of the top sources in the world for learning about and fighting against racism. Visit Hollywood27.com for more details.
Hollywood 27 Productions
P.O. Box 13538 Mesa, AZ 85216