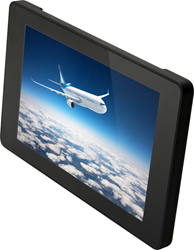 "Our innovative 1Net Private Cloud technology enables the airline to tailor content solutions and enrich the infotainment experience similar to personal devices".
Irvine, CA (PRWEB) March 31, 2015
Today, Imagik of Miami, Fla and Thompson Aerospace of Irvine, CA announced the joint venture and launch of the Allure Inflight Infotainment System, with 1NET Private Cloud Technology. The Allure is the lightest weight and lowest cost complete Inflight System offering the full complex for entertainment and infotainment.
On April 14-16, Imagik will be unveiling the new Allure In-Seat line as well as a USB charging system at the Hamburg Interior Show. The Allure features a 10.1 inch HD touch screen,row-centric architecture, together with the lightest weight and lowest cost for a full complex for flight entertainment. The QUATRO in seat USB outlets support personal device charging, and can be installed with the IFE system or as an independent charging system, providing airlines with the unique capability to enhance the passenger experience.
With almost 20 years of experience in the airline In Flight Entertainment business, Imagik is one of the world's leading suppliers of flat panel In-flight entertainment monitors, with products flying on many of the world's most prestigious airlines.
As the leading company in commercial aircraft IT security and data management solutions, Thompson Aerospace has developed a unique method of content management providing airlines the ability to update content from the cloud anytime the aircraft is connected to GSM/LTE. This allows for providing passengers up-to-date and relevant information on their destination or world events. In a similar environment as browsing, the web passengers will be able to click on different features such as the points of interest on the 3D map, gaining a more in-depth view of available attractions or local information.
Mark Thompson stated, "Entertainment solutions are big data solutions and with our partnership with Imagik allows us to focus on the data to provide the best value to airline customers. Our innovative 1Net Private Cloud technology enables the airline to tailor content solutions and enrich the infotainment experience similar to personal devices".
Imagik and Thompson Aerospace have reached an agreement to combine and market their unique capabilities and offer a one of a kind system that is within reach to all commercial airlines.
Pablo Vadillo of Imagik stated: "With this agreement we can offer our customers almost every option they can look for in an IFE system, from movies, to e-commerce to global tracking.
Thompson Aerospace will focus on security, data management and connectivity with their new CSUv2 server that is the core of the 1NETv2 Airborne Local Area Network. The "Always Connected" secure data solution is an ecosystem for managing all aircraft data including position tracking1, performance, ACMS, FOQA and other required data while simultaneously maintaining the capacity for streaming passenger content.
++1 Thompson Aerospace provides secure IT management solutions with service level agreements allow airlines to pay for the service not the equipment. These services include 15 minute aircraft tracking, virtual flight data recorder, ACMS, FOQA, real time credit card processing and passenger data solutions.
Thompson Aerospace's joint venture with Imagik is another agreement to allow airlines access to secure IT networks. Thompson Aerospace is partnered with BE Aerospace for the manufacturing of their 1Net server product line.
Thompson Aerospace and Imagik will be showing the new systems at the Interiors Conference in Hamburg Germany on April 14-16 Booth Number 4B40.