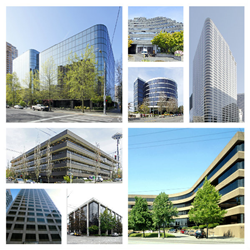 Charlotte, North Carolina (PRWEB) March 31, 2015
Waterstone Defeasance, LLC recently facilitated a $242 million defeasance consisting of a 7-property office portfolio with a total of 1.5 million square feet in downtown Seattle. In addition to defeasing the original $242 million loan, the transaction also involved paying off a $40 million note which was not securitized.
The Seattle properties included in this transaction were the Fourth & Vine Office Building, 1000 Second Avenue, 190 Queen Anne, 3101 Western Avenue Building, 3131 Elliott Avenue, 300 Elliott Avenue, and 2901 3rd Avenue.
The original loan was securitized in the JPMCC 2005-LDP5 pool, with a 5.77% coupon, and is scheduled to mature in January 2016.
The defeasance transaction was driven by an opportunity to take advantage of the low interest rate environment and asset appreciation. The portfolio was refinanced with a new $345,000,000 interest only loan at 3.90% on a 10-year term. The defeasance premium for this transaction was 4.73%.
The Waterstone team that handled this transaction was led by Carol Tillman and Brian Pedersen.
What is Defeasance?
Defeasance is a substitution of collateral in which a portfolio of government securities replaces the real estate as the collateral for a commercial loan. Redemption of principal and interest from the securities pays remaining debt service, so the promissory note technically remains in place but is repaid from the proceeds of the securities purchased. The securities are typically purchased with a portion of the proceeds of a sale or refinance, so the defeasance transaction is usually coordinated with a related real estate transaction. Most fixed-rate conduit/CMBS loans originated since 1998 have defeasance provisions written into the loan documents.
About Waterstone Defeasance
Waterstone Defeasance, LLC is an independent consulting firm specializing in assisting commercial real estate borrowers through the defeasance process. Since 2005, Waterstone has assisted hundreds of owners and their advisors achieve the lowest possible defeasance costs. Waterstone Defeasance has developed an industry-leading defeasance calculator that is available on their website (defeasanceservices.com). Headquartered in Charlotte, North Carolina, the company also has offices in New York, Dallas, and Atlanta.