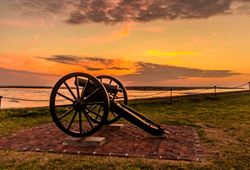 Charleston, SC (PRWEB) April 02, 2015
Listed on the National Register of Historic Places, Fort Sumter, located at the entrance of Charleston's harbor, is the site of the first shot of the American Civil War at the Battle of Fort Sumter on April 12, 1861. The mortar shell exploded above Fort Sumter signaling Confederate artillery to fire openly upon the Union-held Fort. Fort Sumter surrendered 34 hours later and Union forces tried for nearly four years to take the fort back.
On April 14, 1865, Union Major General Robert Anderson came out of retirement to re-raise the same United States flag over Fort Sumter that he had lowered in surrender four years earlier. April 14, 2015 marks the Sesquicentennial, 150th Anniversary, of this historic event that reunified the bitter divisions between 'North and South' that separated a young nation to the point of brother fighting against brother. The price paid was high in human lives, destruction of families and property, and the struggle for civil rights that was a key factor in our country's biography continues into the present day.
Charleston is ranked by Conde Nast Readers Choice Awards as a #1 Top U.S. Destination, and the Sesquicentennial commemorative events will be a very special time to experience this piece of American history in person.
Once aboard, visitors experience a relaxing 30 minute narrated cruise to historic Fort Sumter. They will learn about the events which led to the outbreak of America's most bloody war. Upon arrival, visitors are greeted by National Park Service Rangers, who provide further details about Fort Sumter and its pivotal role in the American Civil War.
Fort Sumter National Monument is hosting several events commemorating the 150th Sesquicentennial Anniversary of the re-raising of the United States flag over Fort Sumter. Civil War reenactors will be stationed at Fort Sumter April 13 – 14, 2015. Liberty Square will display a special "Re-Union" Exhibit. Support from the Fort Sumter Trust and its community partners bring two spotlights illuminating the fort and symbolizing the division of the nation. The spotlights will converge to one on the anniversary of the end of the Civil War symbolizing the re-unification of the nation.
Special Sesquicentennial - Fort Sumter Dinner Cruise
Saturday, April 11th, 2015
Join us onboard the Spirit of the Lowcountry for a dinner cruise to Fort Sumter to take part in a special Park Service program to commemorate these historic events. SpiritLine Cruises' Executive Chef Mason Mullock will prepare delicious passed hors d'oeuvres for you to enjoy on your way to the fort and a grand three-course dinner following your hour long stay at the historic site.
5:30pm boarding at Liberty Square ~ 5:45pm departure ~ 9:00pm return
$76.00 per person inclusive
Fort Sumter Tours provides the only boat tour that docks at historic Fort Sumter and allows Visitors to personally experience this patriotic National Monument. Spectacular views on the 30-minute cruise to the fort, of the Battery, Charleston harbor, Cooper River Bridge, Aircraft Carrier Yorktown and much more. Walking the grounds of Fort Sumter visitors will find five replicas of historic flags that regularly fly over Fort Sumter plus the current United States flag. These represent a timeline of Civil War flags at the fort from 1861-1865. As Ken Burns, director of award winning PBS series, The Civil War, said, "The Civil War was the greatest event in American history, where, paradoxically, in order to become one, we had to tear ourselves in two."
Sunset Tour to Fort Sumter
Sunday, April 12th, 2015
To commemorate the Sesquicentennial milestone of 150 years since the Civil War's end – Fort Sumter Tours will offer a Special Sunset Tour to Fort Sumter on Sunday, April 12th.This very popular tour that is typically only offered on Fridays starting April 3 this year, will be making a special tour to commemorate this historic time.
5:00pm – Boarding at Liberty Square ~ 5:15pm – Depart Dock ~ 5:45-6:45pm – Tour Historic Fort Sumter ~ 6:45-7:30pm ~ Sunset Cruise on the Harbor ~ 7:30pm – Arrive back at Liberty Square
Adult: $42.00 per person; Children: $30.00 per person (4-11); Senior: $40.00 per person; Children 3 and under: FREE. Advance reservations are recommended. Book online or simply call 843-722-BOAT. 340 Concord Street (Liberty Square). Parking is easy at nearby Aquarium Wharf garage. Cancellations with refunds accepted up to 48-hours in-advance.*Please note the per person price does not include beverages – alcohol and non-alcoholic and bar tips are greatly appreciated. Spacious dining decks are comfortable and climate-controlled.
The "Special Sesquicentennial - Fort Sumter Dinner Cruise" and "Sunset Tour to Fort Sumter" are hosted by Fort Sumter Tours, an authorized National Park Service concessioner, proudly owned and operated for over 50 years by a local Charleston family with generations of maritime heritage. Fort Sumter Tours is an authorized National Park Service Concessioner operating the only commercial U.S. Coast Guard approved boat transportation to Fort Sumter National Park.
Tickets are limited for the Sesquicentennial Dinner Cruise on Saturday, April 11th and for the Sesquicentennial Special Sunset Tour on Sunday, April 12th. FortsumterTours.com ~ 843.722.BOAT (2628).