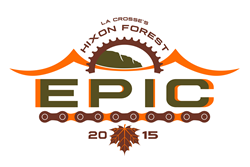 Over the last 21 years, WORS has become the nation's largest state mountain bike racing circuit.
La Crosse, WI (PRWEB) March 31, 2015
With the City of La Crosse Parks & Recreation Department's recent announcement of the first annual Hixon Forest Epic mountain bike race as the newest stop on the Wisconsin Off Road Series (WORS) circuit, the La Crosse area's reputation as a bicycle friendly community continues to grow.
Over the last 21 years, WORS has become the nation's largest state mountain bike racing circuit. Their 12-event series runs from May through October, including the WORS Cup Pro XCT, featuring the best professional cross-country mountain bike racers from all over the U.S. The inclusion of the Hixon Forest Epic in this top-level circuit marks a major milestone for the La Crosse bicycling community.
The past several years have seen bicycle culture boom in La Crosse. 2011 marked the first La Crosse Bicycle Festival, an annual four-day event over Labor Day weekend featuring free, self-supported group rides ranging in length from 25-125 miles, guided local bike tours, and more. The festival celebrates everything residents and visitors know and love about La Crosse--its incredible geography, stories history, and welcoming, accommodating businesses--all of it accessible by bike.
2011 also saw the opening of La Crosse's first bicycle manufacturer, Wyatt Bicycle Company, specializing in fixed gear and fat bikes. This year, Wyatt Bikes has partnered with the La Crosse Area Convention & Visitors Bureau to help launch a new website, http://www.bicyclelacrosse.com, which aims to promote road riding in the region through a mix of digital technology and the expertise of local cyclists. The site is a catalogue of local resources for cyclists, and includes routes of varying difficulty for cyclists of all levels, with maps which may be printed or downloaded to GPS. Through August 1, 2015, visitors to the new site can sign up to win a Wyatt Driftless Fatbike, valued at over $1300.
The events calendar at explorelacrosse.com is regularly peppered with bicycling events of all kinds, from competitive races like the YMCA's Got Energy Triathlon to casual scenic tours like the Trempeleau Hip Breaker. Those looking for even more relaxed biking activities can find plenty of weekly, pub-and-grub-themed rides such as Barley Brothers Beers & Gears, or Cheeseburgers, Ride, Ales, and Pins.
For more information about bicycling resources and events in the La Crosse area, please visit http://www.bicyclelacrosse.com, http://www.explorelacrosse.com, and http://www.explorelacrosse.com/hixonforestepic/.