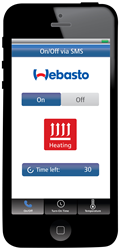 Inviting Hugh and Vlad into our booth is a way that we can give back to our customers and show them our appreciation. – Dr. Rolf Haag
Fenton, MI (PRWEB) March 30, 2015
Webasto Thermo & Comfort North America, a world leader in engine-off vehicle heating equipment, is bringing advanced technology to fleets and owner-operators. The all-new ThermoCall and SmarTemp Control 2.0 will be on display in the Webasto booth #18180 at the 2015 Mid-America Trucking Show. In addition to exciting new products, Ice Road Trucker Hugh "Polar Bear" Rowland and Vlad Pleskot will be in the Webasto booth to meet fans and sign autographs.
Save fuel with your phone
ThermoCall from Webasto allows drivers to preheat their engine from the convenience of a mobile phone. The new Webasto tool is compatible with Webasto coolant heaters, controlling on/off functions, programming heater start time up to 24 hours in advance, and setting a 7-day reminder. ThermoCall stores up to five authorized phone numbers and can operate up to two heaters and two trucks.
The ThermoCall kit comes with the ThermoCall receiver, GSM antenna and wiring harness. Once professionally installed and pre-paid SIM card with unique phone number and active GSM Network is added (not included), users simply download the ThermoCall app on their smart phone and can control their heater via text message or phone call. Webasto ThermoCall will be available in May of this year.
Next generation digital control
SmarTemp Control 2.0 is the next generation version of the successful original SmarTemp Control. The new version will now have a programmable heater start time feature. This will allow users to manually set the timer so that the heater will turn on at a desired time/day, with duration options of 30, 60, 90 and 120 minute time periods.
SmarTemp Control 2.0 continues to deliver precise temperature control when paired with Webasto air heaters. The digital control is an easy-to-use temperature management system with an intuitive dial to set and adjust temperature settings. The SmarTemp Control 2.0's large LCD screen prominently displays the temperature, and its one-click-to-one-degree ratio makes it easy to adjust. SmarTemp Control 2.0 will be available in April of this year.
2015 Mid-America Trucking Show
For the third year in a row, Webasto will host Ice Road Trucker Hugh Rowland and Vlad Pleskot in their booth for personal meet & greets with fans and show attendees. "Inviting Hugh and Vlad into our booth is a way that we can give back to our customers and show them our appreciation," said WTNA President & CEO, Dr. Rolf Haag. "Getting a group of fellow drivers and owner-operators together is also a productive way to communicate and determine their needs, helping us plan for future product developments," Haag continued.
Rowland and Pleskot will be in the Webasto booth #18180 on Thursday, March 26 from 1:00 - 3:00pm, Friday, March 27 from 11:00am – 1:00pm and on Saturday, March 28 from 1:00 – 3:00pm.
Webasto will be offering $25 mail-in rebates in the form of American Express gift cards on Air Top and Thermo Top heaters purchased from January 1 – June 1, 2015. Additionally, visitors to the booth will have the chance to enter to win NASCAR tickets to select races.
About Webasto:
Webasto Thermo & Comfort North America is a subsidiary of Webasto Thermo & Comfort SE. Webasto Group based in Stockdorf near Munich has been a family-owned business ever since the company was founded in 1901. The group operates internationally at over 50 locations (over 30 of these production sites) in the divisions roof and thermo systems. Webasto is one of the top 100 automotive suppliers worldwide. The company´s core competencies encompass the development, production and sales of complete roof and convertible systems as well as heating, cooling and ventilation systems for passenger cars, commercial and special vehicles, recreational vehicles and boats. For more information please visit http://www.webasto.com.
Corporate Contacts
Webasto Thermo & Comfort North America, Inc.
Amanda Kopczyk
Ph. 810-593-6070
E-Mail: amanda(dot)kopczyk(at)webasto(dot)com