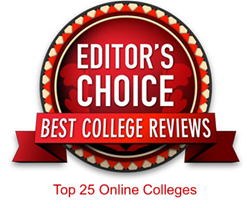 (PRWEB) April 01, 2015
Wilmington University has been ranked in the top 10 of the Best Online Colleges by BestCollegeReviews.org in recognition of the institution's ability to provide online students with the affordability, flexibility and quality instruction they value most highly.
BestCollegeReviews.org narrowed a survey of over 400 colleges and universities to the 80+ institutions that provide ten or more degrees fully online. Using data from the Distance Education Council, Peterson's and the National Center for Education Statistics, it then ranked each institution with respect to affordability, flexibility, academic rigor and student support.
"Wilmington University takes great pride in the high academic standards of all our academic programs offered at the associates, bachelors, graduate and doctoral levels," said Dr. James D. Wilson, Vice President, Academic Affairs. "Our online programs complete a rigorous development process overseen by our faculty, who undergo extensive training in order to work in an online environment. Faculty are then challenged to maintain a high degree of interaction and engagement with our online students. These assets, coupled with the high level of academic and student support services for which Wilmington University has been recognized, makes for a great online experience."
According to the Best College Reviews website, 7.1 million Americans took for-credit classes online in 2013, with a large portion of these students completing their entire degree online. While online education is still relatively new it has become mainstream, with more online colleges than ever, greater offerings, and higher overall value for students. The website also noted in particular that skill-based online learning is on the rise, with most employers reporting no perceived difference between degrees obtained fully online versus more traditional methodologies.
"The University is gratified to see our inclusion on this list," Wilson added. "We appreciate the fact that this ranking acknowledges our dedication to online program development, preparation, technology and student focus.
About Wilmington University
Wilmington University is a private, nonprofit institution committed to providing flexible, career-oriented, traditional and online associate, undergraduate, graduate and doctoral degree programs. Ranked as the second fastest growing doctoral institution in America 2002 – 2012 by The Almanac of The Chronicle of Higher Education, affordable tuition, academic excellence and individualized attention are hallmarks of the University that enable greater student success in their chosen careers. For more information, contact Wilmington University at 302-356-INFO (4636), via email at infocenter@wilmu.edu, or visit our website: http://www.wilmu.edu.