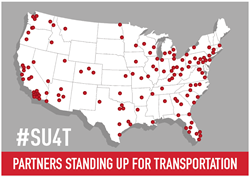 "It's time for us to work together to persuade congress—Republicans and Democrats alike—to act in the best interest of our country to repair, strengthen and build transportation infrastructure" - Phil Washington, APTA - Chair
Denver, Colorado (PRWEB) March 31, 2015
The Denver Regional Council of Governments (DRCOG) and the Regional Transportation District (RTD) are planning an array of public activities which include invitations to sign the online petition, a Signature Bus Tour and a Unity Parade and Rally at Denver Union Station as part of "Stand Up for Transportation Day" – a national day of advocacy on April 9 to create awareness and support for long-term, sustainable transportation funding.
The effort is being led by the American Public Transportation Association (APTA) to push the U.S. Congress to pass a long-term transportation spending bill. The current funding bill, Moving Ahead for Progress in the 21st Century (MAP 21), expires May 31. Outgoing RTD General Manager and CEO Phillip Washington initiated the idea in his role as this year's chair of APTA.
"It's time for us to work together to persuade congress—Republicans and Democrats alike—to act in the best interest of our country to repair, strengthen and build transportation infrastructure," said Washington. "The opportunity is now to send a clear, united message to congress to set aside partisanship and move from impressive talk to impressive action."
DRCOG and RTD are collaborating with various transportation partners on this effort including the Colorado Department of Transportation, the Colorado Association of Transit Agencies, the City and County of Denver, the Denver Metro Chamber of Commerce, the Downtown Denver Partnership, Transit Alliance, the Colorado Contractors Association and other regional transportation organizations.
Leading up to Stand Up for Transportation Day (SU4T), RTD has taken the SU4T show on the road through a "signature bus tour" to all 15 RTD director districts in RTD's service area. A specially branded bus is making a stop in each district at locations that draw a crowd and give people the chance to actually sign the bus as a visible show of advocacy. All along the bus tour, RTD staff will also encourage people to sign the online petition at http://www.standup4transportation.org. The bus tour dates and locations are available on the RTD website at http://bit.ly/su4tdbus.
On Thursday, April 9, DRCOG, RTD and their transportation partners will hold a unity parade down the 16th Street Mall from Market Street Plaza to Denver Union Station, where the unity rally will take place. Leading the parade will be various modes of transportation including buses, shuttles, vans and bicycles followed by members of the public and regional leaders. Participants will wear matching SU4T t-shirts, carry signs and wave "transportation rally towels" as they march to Union Station – an iconic example of the importance of federal transportation funds. Of the $480 million budget to redevelop Denver's Union Station's transportation elements, $390 million is from various forms of federal funding.
The rally will feature a series of speakers from a cross-section of the community sharing brief comments about the importance of transportation in their lives. Invited speakers will include a transit dependent rider, a veteran, a construction worker, a student, transportation officials and members of Colorado's congressional delegation.
For complete information about SU4T activities visit the website at http://bit.ly/su4tinfo.
# # #
The Denver Regional Council of Governments is a nonprofit collaborative association governed by a Board of Directors representing 56 county and municipal governments. Board members work together to make life better for people of all ages, incomes and abilities in the Denver region. Through Metro Vision, the plan to manage growth over the next 25 years, the region's local governments work cooperatively to address development, land use, transportation, environmental quality and older adult issues.