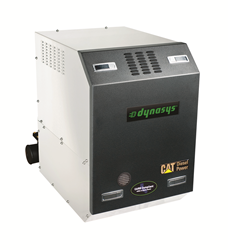 At only 18 inches wide, the Dynasys and new Dynasys SL have the thinnest profile of any diesel-powered APUs on the market. – Terry Nielsen
Louisville, Ky (PRWEB) March 30, 2015
Perrin Manufacturing – a leading manufacturer and distributor of the energy-efficient diesel-electric Dynasys Auxiliary Power Unit (APU) – displayed its new 18-inch-wide Dynasys SL for the first time at booth 13252 at the 2015 Mid-America Trucking Show, in Louisville, Kentucky. The automotive-style HVAC system is available with a multi-purpose HVAC console that fits virtually all major day cab configurations and an under-bunk version that accommodates most traditional sleeper cab styles.
Unlike the popular Dynasys APU, the new Dynasys SL APU does not include an AC power generator, but focuses solely on operator comfort and climate control of the vehicle's cabin. The automotive-style system is lighter weight and employs a belt-driven AC compressor to generate up to 24,000 BTU/hr of cooling power and heat dissipation from its diesel power plant to deliver up to 8,000 BTU/hr of heating strength.
Both Dynasys and Dynasys SL APUs are the most compact models on the market and fit the frame rail mounting space of most North American day cab and sleeper cab brands. With 25 percent less weight than the standard Dynasys model and its ability to accommodate both day cab and sleeper cab power units, the new Dynasys SL gives fleets more options, more flexibility and more convenience by providing enhanced in-cab comfort, as they compete to attract and retain drivers.
"At only 18 inches wide, the Dynasys and new Dynasys SL have the thinnest profile of any diesel-powered APUs on the market," Terry Nielsen, chief engineer for Dynasys, said. "With the proliferation of AC inverters in most day cabs and sleeper cabs today, we wanted to provide an alternative APU without self-contained power generating capabilities, that would be about 25 percent lighter and even easier to maintain."
The original Dynasys and new Dynasys SL are the only APUs on the market to use a corrosion-resistant stainless steel outer envelope and heavy-duty zinc-plated frame with powder coating. Also unique to the Dynasys brand is its in-cab, touch-screen user interface controller.
To add to operator comfort, the units are also designed with advanced noise reduction technology, keeping them at or below 75 dB under full load, producing about a third less noise than an idling class-eight diesel truck.
Both the original Dynasys and new Dynasys SL are powered by an easily accessed two-cylinder Caterpillar CO.5i diesel engine, boasting an Environmental Protection Agency (EPA) rating of Tier-4, the lowest emission rating for its class. Dynasys APUs attach to a power unit's existing fuel tank and operate on less than one quarter of the diesel fuel needed to idle a class-eight diesel engine. Use of either Dynasys APU also significantly reduces soot buildup from nitrogen oxide (NOx) emission and thus reduces the incidence of diesel particulate filter (DPF) regeneration on any vehicle they support.
"The new Dynasys SL APU has been engineered for severe duty environments," Nielsen said. "Its hardened design makes it a great alternative for challenging off-road environments where heavy debris accumulation is an issue."
The Dynasys SL day cab model has a versatile HVAC console with four large multi-directional air vents, two large integrated cup holders and two storage trays. The sturdy, molded plastic and steel construction console also includes a USB charging port and a common 12-volt DC power receptacle.
Perrin Manufacturing has broad experience designing and manufacturing HVAC and APU systems for heavy-duty, off-road and exotic commercial work vehicles. Perrin has its own state-of-the-art testing facility and conducts Society of Automotive Engineers (SAE) J1503 testing on all of its HVAC products.
Sales and service of all Dynasys APU products are available in the U.S. and Canada through the company's extensive dealer network of more than 145 convenient dealer locations. Users can find a dealer near them and access dealer information by simply clicking on their location icons.
Additional information can be obtained by contacting Dynasys or by visiting: http://www.dynasysapu.com
To access high-resolution images of the new Dynasys SL APU, please visit: http://www.dynasysapu.com/sl
-END-
About Dynasys APUs
Dynasys is dedicated to manufacturing and distributing energy-efficient auxiliary power systems for the transportation industry that reduce emissions and the magnitude of climate change. The lightweight Dynasys APU and Dynasys SL APU are designed for easy installation and maintenance, offer significant fuel savings and enable driver compliance with non-idling laws. The original Dynasys APU offers 6kW of power, more than enough to support both HVAC and other electrical appliances in the cab. The Dynasys APU is also available with shore power, which provides the additional flexibility of allowing the HVAC to be plugged into any 110-volt outlet and to work independently from the APU engine for optimum performance and fuel savings, with minimal noise. The new Dynasys SL APU provides HVAC without the need for power generation capabilities.
About Perrin Manufacturing, Inc.
With more than 35 years of award-winning experience, Perrin Manufacturing excels in custom designing dependable, high-performance supplemental power and climate control systems for on- and off-highway vehicles. Engineered by Perrin, the Tridako PowerCube APU, the original Dynasys APU and the new Dynasys SL APU are currently the only APU designs on the market that undergo and meet Society of Automotive Engineers (SAE) certified J1503 testing. Perrin's engineered designs are tested and built to strict SAE equipment performance criteria, complementing original equipment manufacturer (OEM) designs that enhance market attraction with optimum comfort and value. Perrin is ISO 9001:2008-certified, complying with worldwide certification standards and total quality management principles. For more information, please visit http://www.perrinmfg.com.