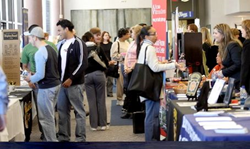 For people ready to apply, interview and start working, Goodwill's Job Fair is the right place to connect with employers with immediate positions to fill," Maureen Sedonaen, SFGoodwill President and CEO.
San Francisco, CA (PRWEB) March 31, 2015
WHO:
Goodwill of San Francisco, San Mateo and Marin Counties (SF Goodwill), City Park, Cole Hardware, CPMC, CVS, Earl's Organic Grocery, Global Gourmet, Grubhub, Haven Staffing, Hilton Hotels, Holiday Inn, Home Joy, Hyatt, Lowe's, Manpower, Mercy Housing, MGA Health, Mission Food Bay Co, Old Navy, Office Team, Park 'n Fly, Premier Staffing, Safeway, Seniors at Home, SFMTA, Seniors at Home, Sprig, St. Regis, Standard 5 & 10, Target, Universal Protection Service, Verizon, Vivint Solar, Walgreens, W Hotel, Wells Fargo, Westin St. Francis and many more.
WHAT:
The Goodwill Spring Career Fair, in partnership with more than 40 of the largest Bay Area employers, directly connects work ready job seekers with employers currently hiring for multiple positions in variety of industries, such as: security, transportation, warehousing, retail, janitorial, customer service, front office administration, nonprofit and more. Employers will accept resumes and conduct on-the-spot interviews. Goodwill's workforce development team will be on-hand providing computer access and actively assisting job seekers with online applications. http://www.sfgoodwill.org for more information.
VISUALS:
-400 plus job seekers meeting with employers, getting assistance with applications, on-the-spot interviewing
-Career Specialists providing job seekers with resume advice and online computer help
-Employers meeting with job candidates
WHERE:
Goodwill Headquarters, 1500 Mission Street @ 11th/Mission, San Francisco, CA 94103
WHEN:
Wednesday, April 8th from 11am – 3pm
WHY:
For almost one hundred years, Goodwill has provided a second chance for local people in need through the power of work. Goodwill, often a last hope for the chronically unemployed, helps thousands of people migrate from public assistance to paycheck, become self-sufficient and take part in supporting their families and communities.