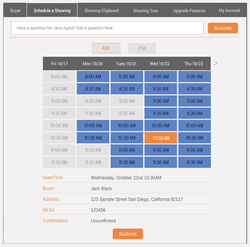 Members will be able to log on to the MLS and schedule showings on any listing that has Showing Suite enabled.
San Diego, CA (PRWEB) March 31, 2015
Showing Suite, Inc. is proud to announce that South Tahoe Association of REALTORS® (STAOR) has chosen Showing Suite's showing scheduling system for their MLS. Their members will soon have access to all the Showing Suite features provided in the MLS version.
"South Tahoe Association of REALTORS® is always looking for new technology tools that will add to the functionality of the MLS and benefit its subscribers. Showing Suite provides a wide breadth of features that allow agents the option to customize to their comfort level. The free MLS showing scheduling features was an obvious choice for South Tahoe and we are excited to be providing it to our subscribers."
-Sharon Kerrigan, Executive Vice President
STAOR now has access to single sign-on capabilities through their Rapattoni system as well as through the Clareity Dashboard (coming soon). Members will be able to log on to the MLS and schedule showings on any listing that has Showing Suite enabled. By clicking on the "Schedule a Showing" button agents will be taken to a confirmation page that allows them to schedule the showing as well as provide a place of communication between all the selling parties. Members can upgrade to the full functionality available in the Showing Suite Ultimate account at any time.
The Showing Suite system comes equipped with a free account for every agent. Buyers' agents can quickly create showing tours, ask questions to the listing agent, map the showing tour, and schedule and re-arrange showings. A showing tour will include each listing with a confirmed showing appointment. The buyer's agent has everything they need to arrange the tour in their account. If the agent wants to print, email, or share the information with their buyers, all of it can be done through the Showing Note mobile app. Showing Note allows buyers to take photos, videos, and notes at each listing and save everything in one place. Users receive updates about the listings they've seen and can share their notes and pictures with fellow collaborators or on social media, in addition to accessing their showing tours.
Showing Suite also includes free features for listing agents. Listing agents have the option of enabling the Showing Suite Calendar where they can allow buyers to schedule showings on their listings. An automatic showing request email is triggered by appointment requests submitted through the calendar which prompts the agents to confirm the appointment or suggest a different time. The listing agent, the seller, an office admin, or any combination of parties that may need to confirm the showing can receive any of these emails.
When an agent chooses to upgrade to a Showing Suite Ultimate subscription they will have access to additional features in their Showing Suite account. An enhanced showing scheduling system called Showing Robot allows listing agents to enable on their listings. With Showing Robot, the listing agent can enable phone calls and text messages to confirm appointments in addition to email. The "Text2Show" service allows buyers to text the local Showing Robot number provided to the listing agent to locate that property, view the mobile flyer, and choose a time for a showing. By not subscribing to an additional local sign rider text-message service, agents can save money by having this service already included for their listings. For immediate showings requested by the buyers, simply select the "InstaShow" button which will try to get them into the showing as soon as possible.
Listing agents will also be able to gather showing feedback using Showing Suite's award winning Home Feedback system. Powerful statistical reports can be generated for each listing which allow agents to make modifications that help sell homes as quickly as possible. A Showing Suite Ultimate account comes with additional features such as the Home Followup CRM, Customer Satisfaction Surveys and a robust mobile app to manage showings on the go.
About South Tahoe Association of REALTORS®
South Tahoe Association of REALTORS® strives to provide resources enabling members to serve the public and work together cooperatively. They do this by educating members and the public, protecting the public by advocating private property rights and home ownership, contributing to the community's well being, upholding professional standards, and promoting a positive image and the value of REALTORS®. To learn more visit STAOR.org.
About Showing Suite, Inc.
Showing Suite, Inc. develops and implements market-leading tools that allow real estate professionals to sell homes smarter and faster. Since 2001, the company has brought a suite of web-based software solutions for the real estate sector to market, including its flagship product, HomeFeedback®, as well as Home Followup, Listing Sync, Showing Sync®, ForeclosureFeedback®, and Showing Calendar®. Since inception, Showing Suite™ has helped more than 900,000 real estate professionals in the U.S. and Canada retrieve valuable feedback from potential buyers to increase home sales. For more information visit ShowingSuite.com.
# # #
If you would like more information about this topic, please contact Michelle Costa at 858.270.1055 or email at MichelleC(at)ShowingSuite(dot)com.