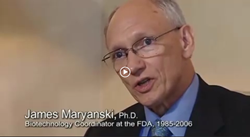 Experts in the field of food safety are satisfied that this approach is sufficient and reliable to assure the GM crops are as safe [as] their conventional counterparts.
Phoenix, AZ (PRWEB) March 31, 2015
The Walk a Mile Project, as part of their documentary film on the GMO controversy, just kicked off their 3rd research sequence. The new sequence focuses on the oft-controversial term "substantial equivalence."
"Substantial Equivalence was and is a massive component of GMO regulation in the United States," states Eric Battersby, Director at Change The World Films. "We started our research by going way back, to a point well before GMOs even entered our food supply, just to get a bird's eye and big picture view of the situation. As our research progressed, we quickly realized that the term substantial equivalence holds an incredible amount of weight in the US regulation of biotechnology, so it absolutely requires a closer look from The Walk a Mile Project."
Eric continues, "To start off the sequence, we showcase Monsanto's take on substantial equivalence, and then follow that up with a video featuring James Maryanski, former Biotechnology Coordinator at the FDA. Like so much of the GMO controversy, we have two very different takes on the same subject. So where exactly is the truth?"
Run by nonprofit film company Change The World Films, The Walk a Mile Project follows a 3-step research sequence as it prepares for each documentary film. Each sequence starts at their GMO QUESTIONS blog, where a tag and a hashtag identify the exact name of that sequence for tracking across its entire duration. They then add entries to the GMO INVESTIGATION blog and finally their GMO TRUTH blog, where "facts" are carefully sifted into "truth" after the investigation is complete.
Battersby adds, "We follow a tight protocol to make sure we dig deep enough and move past all the noise surrounding GMOs. Both sides can get a bit emotional on the subject, but we leave that alone here at Walk a Mile. The project goal is straightforward – discover the truth and change the world. Restoring the voice of reason to these ultra-important issues is a big part of how we make that happen."
To follow along with The Walk a Mile Project's research into substantial equivalence and all the rest of their work on the GMO Controversy, click here to visit the launch of the sequence.