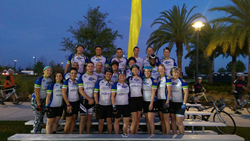 Orlando, Florida (PRWEB) March 31, 2015
Cuhaci & Peterson Architects, Engineers and Planners participated in the Tour de Cure charity bicycle ride in Lake Nona, Florida earlier this month. This was the team's first year participating in the event, which benefits the American Diabetes Association; funds raised by the C&P team totaled $27,340, which placed them in 3rd place for corporate teams.
The team held multiple company-wide fundraising events, as well as, each of the team members working to raise funds on their own. Of the 110 Champions designated by the Tour de Cure (individuals raising $1,000 or more), 10 were from the Cuhaci & Peterson team. Additional funding came from sponsorship of the team's jerseys and après shirts by local business partners including HGR Construction, North American Properties, CDS, Jeremiah's Italian Ice, Bay Tree Solutions, Birchmier Construction, Blue Ray Engineering, Ep3, Inc., Hawkins Construction, J. Raymond Construction, Orlando Central Center, Summit Realty and Wolfe Financial Group.
With a team of 50, 3 rode 10 miles, 13 rode 25 miles, 5 rode 50 miles, 9 rode 63 miles and 20 rode 102 miles for a grand total of 3,212 miles covered by the Cuhaci & Peterson riders. Company Chairman and team participant Lonnie Peterson noted that "In addition to raising funds for a cause that is near and dear to many at our company, the process of preparing for the ride was also quite enjoyable. We felt a real sense of camaraderie as we went on training rides, put together the jerseys with our team sponsors and saw our vision become a reality. It was a great experience and we look forward to doing it again next year."
Cuhaci & Peterson is a national A/E/P firm specializing in commercial design. Headquartered in Orlando, Florida, since 1978, the firm also has offices in Philadelphia and Boston and is registered in 49 states. Cuhaci & Peterson offers Architectural, SMEP Engineering, Landscape and Planning services on a variety of project types, as well as, In-House Permitting and Interior Design.