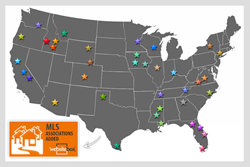 The more often customers return to your site, the more likely you are to convert their searches into sales.
Toronto, Ont. (PRWEB) March 31, 2015
WebsiteBox, the company that offers do-it-all real estate websites with IDX for a one-time $99 fee, today announced IDX integration with 40 additional North American multiple listing services (MLSs). WebsiteBox now supports 300 boards throughout the United States and Canada.
Agents and brokers use IDX (Internet Data Exchange) technology to allow buyers to search MLS listings from real estate websites. WebsiteBox builds into its website templates a search "gadget," or tool, that site owners can use on every web page.
WebsiteBox users can customize the gadget in five different ways to help property buyers easily find the MLS listings that most appeal to them.
"Our flexible IDX gadget helps buyers find – through your WebsiteBox website – all the sales listings that fit the criteria most important to them," said Peyman Aleagha, WebsiteBox chief executive officer and founder. "As a result, you keep buyers coming back. And the more often customers return to your site, the more likely you are to convert their searches into sales."
IDX websites, at $99 each, are available now to members of the following North American MLS organizations:
Alberta

CREB - Calgary Real Estate Board
Arizona

CABOR - Central Arizona Board of Realtors
California

SAOR - Shasta Association of Realtors
STAR - South Tahoe Association of Realtors
TSBOR - Tahoe Sierra Board of Realtors
Colorado

PARMLS - Pueblo Association of Realtors
Florida

KWAR - Key West Association of Realtors
LAKECITY - Lake City Board of Realtors
NSBBOR - New Smyrna Beach Board of Realtors
SPACE - Space Coast Association of Realtors
Georgia

AAAR - Athens Area Association of Realtors
Hawaii

RAM - Realtors Association of Maui
Idaho

MCAOR - Mini-Cassia MLS
MCARID - Mountain Central Association of Realtors
SVBR - Sun Valley Board of Realtors
Illinois

BNAR – Bloomington-Normal Association of Realtors
Iowa

DMAAR - Des Moines Area Association of Realtors
ICARR - Iowa City Association of Realtors
SLMLS - Spirit Lake MLS
Minnesota

DAAR - Duluth Area Association of Realtors
Mississippi

GTAOR - Golden Triangle Association of Realtors
LBOR - Laurel Board of Realtors
MGCMLS - Mississippi Gulf Coast MLS
Montana

SMMLS - Southwest Montana MLS
New York

NYSMLS – New York State MLS
SLBOR – St. Lawrence Board of Realtors
North Carolina

JCBORNC - Jacksonville Board of Realtors
Ohio

CINCYMLS - MLS of Greater Cincinnati
Oregon

CAORMLS - Clatsop Association of Realtors
Saskatchewan

ARR - Association of Regina Realtors
Tennessee

CWTAR - Central West Tennessee Association of Realtors
KAARMLS - Knoxville Area Association of Realtors
Texas

AMARILLO - Amarillo Association of Realtors
GMAR - Greater McAllen Association of Realtors
Virginia

CVRMLS - Central Virginia Richmond MLS
LVAMLS - Lynchburg MLS
Washington

TRICITY - Tri-City Association of Realtors
Wisconsin

SAAR - Superior Area Association of Realtors
Wyoming

CAMPBELL - Campbell County Board of Realtors
CHEYENNE - Cheyenne Board of Realtors
To see the complete list of MLS boards and associations that WebsiteBox supports, or to request IDX integration with other multiple listing services, customers can visit: http://www.websitebox.com/realtors/mls-coverage.php.
About WebsiteBox
WebsiteBox offers do-it-all real-estate websites for a one-time $99 fee – the lowest price in the market. More information is available at the WebsiteBox website, and by contacting Marketing Manager Chad Bhalla at chad.bhalla(at)websitebox(dot)com, or (866) 857-1657 x1113.