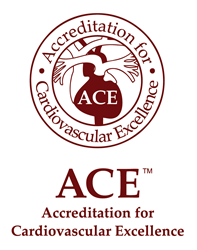 ACE accreditation is an important benchmark for high-quality, appropriate cardiovascular care. I can't think of any other accreditation service that provides better value. - Johnna Reed, RN, BSN, Vice President of Business Development
Washington, DC (PRWEB) March 31, 2015
In today's increasingly competitive and quality-driven environment, healthcare executives must decide which accreditation opportunities will provide the greatest value for their organizations and meet the highest standards of patient care. In a new interview, Johnna Reed, RN, BSN, Vice President of Business Development, Heart and Vascular Services, Bon Secours St. Francis Health System, shares her unique perspective on the benefits of ACE accreditation and reaccreditation.
"ACE accreditation is an important benchmark for high-quality, appropriate cardiovascular care. I can't think of any other accreditation service that provides better value," Ms. Reed said. Bon Secours St. Francis Health System was the first hospital to be nationally recognized with ACE accreditation for its cardiac catheterization laboratory and CathPCI program.
"When we became eligible for reaccreditation, there was no question that we would have ACE review our processes and performance again," Ms. Reed said.
In her interview, Ms. Reed describes multiple concrete examples of how Bon Secours benefited from the ACE external review process, beginning with improved documentation.
"Poor documentation can lead to being misclassified by payers as a high-cost provider, or being misunderstood as having high complication rates," Ms. Reed explains. "For instance, correctly documenting renal insufficiency versus renal failure following catheter-based procedures is critical, as each documented renal failure event contributes to the facility's complication rate."
ACE also helped Bon Secours to align its priorities with the "Triple Aim" initiative, Ms. Reed said. Several organizations including ACC, AHA, and SCAI, have adopted the Triple Aim of better quality of care for patients, better population health outcomes, and lower per-capita health care costs, as a framework for improving health-system performance.
"I believe that achieving the Triple Aim is the new paradigm for healthcare. ACE accreditation and reaccreditation has put our organization ahead of the curve in meeting new quality benchmarks," Ms. Reed said.
"By seeking ACE cardiac catheterization accreditation and reaccreditation, Bon Secours has shown an unwavering commitment to providing quality-driven care," said Bonnie Weiner, MD, MSEC, MBA, MSCAI, FACC, ACE Chief Medical Officer. "Being evaluated against nationally-accepted gold standards in cardiac catheterization demonstrates a desire to meet the highest quality standards set by experts in interventional cardiology."
Watch for additional interviews with A. Thomas Siachos, MD, an interventional cardiologist with Bon Secours, and Lynn Smith, Director of Heart and Vascular Services, in upcoming issues of Cath Lab Digest. Is your cardiac catheterization program ready to show a similar commitment to quality? Facilities seeking ACE accreditation and reaccreditation can obtain more information and complete the application process at http://www.cvexcel.org.
About Accreditation for Cardiovascular Excellence (ACE)
ACE is the global leader in accreditation and external quality review services for all catheter-based cardiovascular procedures. ACE, an independent organization sponsored by the Society for Cardiovascular Angiography and Interventions (SCAI) and the American College of Cardiology Foundation (ACCF), offers independent evaluation and monitoring of facilities that provide cardiovascular care. By reviewing facility and operator performance and comparing clinical decision-making to nationally accepted best practices, ACE quality review and accreditation services play a critical role in continuous quality improvement programs. Join us. Let us exceed your expectations and provide a free consultation. Contact ACE at info(at)cvexcel(dot)org or call our office at 202.657.6859 or visit our website at http://www.cvexcel.org.