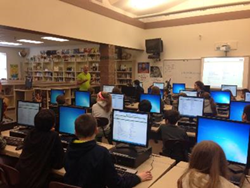 Working with the Ucodemy team gives us the exciting chance to see our students learn coding.
(PRWEB) March 31, 2015
As demand for software developers proliferates, some schools are poised to equip their students with what will be one of the most valuable skills of the digital age— Coding. Clintondale High School of Clinton Township, Michigan, has chosen Ucodemy to ensure their students have access to computer science education.
Powered by award winning learning platform, EDUonGo, Ucodemy will equip Clintondale High School with coding curriculums, collaborative teaching tools and professional software coaching. Teachers will be able to download and modify curriculum resources and be given outside, around-the-clock coaching support.
"We've been using EDUonGo for flipped learning since 2013," says Greg Green, principal of Clintondale High School. "Working the Ucodemy team gives us the exciting chance to see our students learn coding."
The school will begin offering the coding program as an after-school activity. Green hopes their results will prompt the entire Clintondale Community School District to offer coding programs by fall 2015.
To make it easy for teachers and administrators to adopt coding in their schools, Ucodemy provides a solution that includes both quality coding curriculum from open education resources and coaching support for teachers. Additionally, Ucodemy and EDUonGo works with Code.org and Microsoft in worldwide campaigns to engage children with coding.
"Clintondale is a pioneer on flipped learning," says Ridvan Aliu, CEO of EDUonGo. "I can't think of a more advantageous subject matter that fits the flipped learning model as coding does."
About EDUonGo
EDUonGo enables anyone to share knowledge through an online learning environment. Schools, institutions and individuals partner with EDUonGo to host online academies through its cloud-based platform. With more than 1,000 registered institutions and over 30,000 users worldwide, EDUonGo is the fastest and most powerful way for anyone to launch an online academy. For more information, visit http://www.EDUonGo.com.