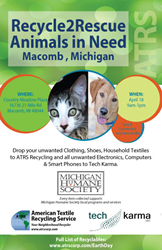 "When we recycle clothes and electronics, keep them out of the local landfill and lend a hand to helping animals in need, its really a wonderful feeling." Patrick Bennett Community Relations Advocate for ATRS
Macomb, Michigan (PRWEB) April 08, 2015
Macomb residents are cleaning up the community in support of local pets in need. ATRS and Tech Karma are set to host the first ever Recycle2Rescue event to collect community recycling to benefit Michigan Humane Society. Every pound of unwanted textiles and electronics collected will generate funding to provide shelter, medical care and loving homes for tens of thousands of animals each year.
The drop and drive event takes place on April 18th, 2015 from 9AM-1PM at Country Meadows Plaza, 16736 21 Mile Road, Macomb, MI 48044.
Items such as unwanted clothing, shoes, soft toys & all other household textiles will be accepted and recycled by American Textile Recycling Service (ATRS). Tech Karma LLC, will host a collection for smart phones, computers, mp3s & all other approved electronics. Attendees are asked not to bring tube TVs, monitors, batteries, or other hazardous items as this can not be recycled through Tech Karma LLC.
"Helping our local communities is something that ATRS and Tech Karma are both really passionate about," says Patrick Bennett, Community Relations Advocate for ATRS, "When we can recycle clothes and electronics, keep them out of the local landfill and lend a hand to helping animals in need, its really a wonderful feeling."
To learn more about recycling with Tech Karma and ATRS please visit http://www.atrscorp.com/earthday.
ATRS Clothing & Shoe Recyclers are located throughout the State of Michigan and provide year round drop-off points for gently used, outgrown and unwanted clothing, shoes, toys and household textiles. Each recycler benefits non-profit organizations such as Michigan Humane Society. Every pound collected is weighed and provides an ongoing monthly stream of revenue for local programs and services.
Tech Karma LLC is a Michigan-based electronics recycling company and a proud partner of the Michigan Humane Society. Tech Karma's electronics recycling program keeps toxic materials out of the environment while raising money for Michigan Humane Society. Every item collected is either reused, resold, or recycled and a portion of the proceeds is donated to MHS.