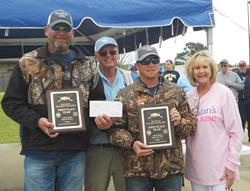 I have participated for several years in this well organized tournament that supports a worth while organization.
Albany, Ga (PRWEB) March 31, 2015
The 39th annual Team Bass Tournament to benefit Megan's House was held Saturday March 29th at Lake Point Resort State Park on beautiful Lake Eufaula. Anglers headed out at 7AM to try their hand at winning one of several prizes. With 118 boats registered everyone was excited to start the tournament. Winners are as follows:
1st place:
Clint Meeks from Plains, Ga
Clint Brown from Bainbridge, Ga.
2nd place:
Scott Gilly from Dawson, Ga.
Joe Durham, Jr.from Albany, Ga.
3rd place:
Les Bratcher from Ashford, Al.
Stan Sims from Wells, Al.
4th place:
Bryan Smith from Tyrone, Ga.
Brent Deal from Panama City, Fl.
5th Place:
Jay Grogan from Fort Mitchell, Al.
Ryan Ingram from Phenix City, Al.
Lunker:
Larry Jones from Columbus, Ga.
Randy Duncan from Rock City, Tx.
Megan's House is a respite home for children ages 0-17 who have developmental disabilities, autism, or are medically fragile. Megan's House is a much needed service to local families of children with special needs and provides a well-deserved break with the peace of mind that their child is being cared for by a qualified professional. Megan's House services are provided in three locations: Valdosta, Albany and Waycross.
Easter Seals Southern Georgia creates solutions that change the lives of children, adults and families with disabilities or special needs by offering a variety of programs and services that enable individuals to lead lives of equality, dignity and independence. For more information, call us at (229)439-7061 or visit us online at: http://www.southerngeorgia.easterseals.com