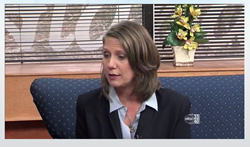 Non-millennial managers must create an environment that allows for flexibility and innovation.
Birmingham, Alabama (PRWEB) April 01, 2015
Nancy Covert, president of Dale Carnegie Training of Alabama was recently featured on Talk of Alabama to discuss the topic of Engaging Millennials in the Workforce. With over 80 million millennials now in the workforce, Dale Carnegie of Central and Northern Alabama took a closer look at how non-millenials, workers over the age of 34, could engage more effectively with their younger counterparts.
For the first time in history, there are four generations working side-by-side in the workforce. With this diversity comes a variety of skills sets, philosophies and challenges for managers trying to engage with each generation. "One of the neatest things about Millennials is that they bring a lot of energy and innovative ideas to organizations," says Covert. "And they're more likely to promote your organization if they work for you." In order to keep tapping into the great ideas, managers of today need to create a work environment that exceeds the expectations of the millennial workforce.
Dale Carnegie and MSW research revealed that millennials are driven in 3 key areas:
Work environment - Non-millennial managers must create an environment that allows for flexibility and innovation. Time off for dealing with personal issues and the ability to share ideas are two keys to creating a millennial friendly work environment.
The Role of the Immediate Supervisor - The research has shown that millennials look for recognition from their supervisors. Millennials also site autonomy as being important. They look to their managers to allow them to make important contributions to the team and get immediate feedback.
Belief in Senior Leadership Team - "The Senior Leadership Team needs to have a good mission and vision that the millennials can buy into," states Covert. "Millennials love to know they're making a contribution to their organizations."
Dale Carnegie Training can help non-millennial leaders learn to effectively communicate with the younger workforce by teaching them to integrate the core millennial values into the organization.
Likewise, the Dale Carnegie Course, Skills for Success can help the millennials become more effective with their interpersonal skills, an area they cited as being important to their own personal development. Millennials will often seek training and development in the areas of Presentations Skills, Working as a Team and Interpersonal Skills. Organizations who offer training and development in these areas will prove to attract and retain these highly engaged millennials.
Click here to watch the Talk of Alabama segment. To learn more about how Dale Carnegie Training can help your organization, please contact:
Nancy L. Covert
Dale Carnegie Training®
2125 Data Office Drive
Suite 109
Birmingham, AL 35244
Telephone: 256-679-8747
Nancy_Covert@dalecarnegie.com