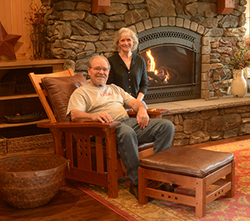 We are thrilled at the response to our 10th anniversary sweepstakes.
PARKERSBURG, W. VA. (PRWEB) March 31, 2015
Eagle Point, Oregon, resident Bob Beanblossom is the Grand Prize Winner of the "$10,000 Blockbuster Sweepstakes" sponsored by "Woodcraft Magazine" to celebrate its 10th anniversary.
Beanblossom won the JD Lohr Morris Chair and matching Ottoman – projects in "Woodcraft Magazine" Issues 55 and 57 that are valued at $6,500. Both pieces were designed by Jeffry David Lohr, owner of JD Lohr Woodworking and the JD Lohr School of Woodworking at Schwenksville, Pennsylvania. Lohr produces original, one-of-a-kind and limited edition Arts & Crafts style furniture and significant contemporary free-form and live edge furniture. He also performs conservator quality restorations on priceless antiques and handles woodworking needs for show quality restorations of pioneer age classic automobiles.
"We are thrilled at the response to our 10th anniversary sweepstakes," Jim Harrold, "Woodcraft Magazine" editor-in-chief said. "We congratulate all the winners and thank the other sponsors who provided prizes – JET, Easy Wood Tools and Rikon. Look for lots more professionally designed projects in our magazine."
An avid fly fisherman who builds bamboo fly fishing rods, Beanblossom learned about the contest through a fishing buddy who showed him the Dec/Jan issue of "Woodcraft Magazine" that publicized the sweepstakes. He entered the contest at the closest Woodcraft store in Eugene, Oregon (167 miles away), after taking a lathe class and "checking out the shopping." Beanblossom liked the magazine so well that he subscribed.
"My wife Julie and I are very excited. We decided to put our new cherry chair and ottoman in the great room" Beanblossom said. "Our home is a Craftsman-style house that incorporates eight species of wood – but not cherry, so now we will have nine."
A Vietnam veteran and retired pilot (in the Air Force, then for a commercial airline), Beanblossom has been building cabinets for the workshop in his new home for the past several months. After that, he and his wife have a lot of projects planned, including a sewing table, half bookcase and a rocking horse for the grandchildren. "But I can't let woodworking interfere with the steelhead and trout fishing," Beanblossom said.
Sweepstakes winners were chosen Feb. 11 in a random drawing from 45,008 unique entries received from Nov.1, 2014, through Jan. 31, 2015 at retail stores, online and by U.S. mail.
Robert Rosborough, a Mechanicsburg, Pennsylvania, resident, won the second prize, a JET 14" Lathe (a new product) and an Easy Wood Tools Mid-Size Turning Tools bundle, a $1,959.96 retail value. Douglass Timberlake of Strong, Maine, won the third prize, a Rikon 18" Bandsaw, a $1,299.99 retail value.
Learn more about Bob Beanblossom, Robert Rosborough and Douglass Timberlake in "Woodworking Adventures" (the Woodcraft blog) at http://blog.woodcraft.com/2015/03/woodcraft-magazine-awards-10000-in-blockbuster-prizes.
The 10 fourth prize winners who will receive the "Woodcraft Magazine, Volume 1: The 1st 5 Years CD" are: Erik Zachman, Jacksonville, FL; Joel Mlotek, Marietta, Georgia; Marciano Trevino, Alvin, Texas; Tammy Medley, Spiro, Oklahoma; Ciro Ramos, Hammond, Indiana; Kyle Davis, Amory, Mississippi; Dan Hicks, Livingston, Tennessee; John Anthony, Bethesda, Maryland; Troy Haberle, Boyertown, Pennsylvania; and Rebbecca Tomas, Seattle, Washington.
Five fifth prize winners will each receive a one-year subscription to "Woodcraft Magazine." They are: Eric Middleton, Katy, Texas; Dennis Larsen, West Bend, Wisconsin; John Weisz, Naperville, Illinois; Roger M. Kavanah, Sr., Taylorsville, Kentucky; and Eugene Moore, Johnstown, Colorado.
Woodcraft Supply, LLC, parent company of "Woodcraft Magazine," launched the woodworking publication with the December 2004/January 2005 issue. In addition to publishing six issues a year, available in both print and digital formats, "Woodcraft Magazine" offers two lines of woodworking plans – Classic® Project Plans and Classic® Shop Plans, and has published four how-to books. To learn more about the magazine, visit http://www.woodcraftmagazine.com and http://www.facebook.com/woodcraftmagazine.