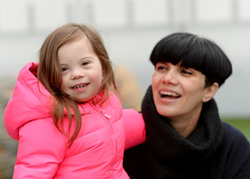 For 50 years, Northwest Center has worked to create a world that values, respects and includes people of all abilities.
Seattle, WA (PRWEB) April 10, 2015
Northwest Center, a leading organization supporting people of all abilities, is honoring its 50th anniversary with an extensive "Join the Revolution" campaign. Northwest Center kicks off the celebration by sponsoring a worldwide drive to recognize people for their abilities and shift the definition of the R word to "Revolution." Supporters can participate by taking the online pledge to:
•Focus on what people can do, not what they can't.
•Use respectful "people first" language, as in people with disabilities.
•Open the door a little wider to create opportunity for "people with disabilities".
•Include people with disabilities fully in our schools, workplaces, and community.
"For 50 years, Northwest Center has worked to create a world that values, respects and includes people of all abilities," said Tom Everill, president of Northwest Center. "Our organization is leading the charge to make communities more inclusive because we have found that when people who experience the world differently engage with each other, new perspectives and fresh solutions emerge. When people of all abilities learn and work together, everyone benefits."
Throughout the year, the community can help raise awareness for the benefits of inclusion in the workplace, community and beyond by participating in a number of "Join the Revolution" events:
•March 20 – April 30: Big Blue Closet Clean Out™ - Northwest Center celebrates 50 years of Big Blue Truck™ donation service with "50 Days, 50 Ways," a de-clutter program geared at helping Washingtonians with Spring cleaning for a cause. Simply clear out piles of unwanted clothing, running shoes gathering dust, or fashion mistakes of yesteryear and donate them to The Big Blue Closet Cleanout™ at one of the many donation points around the area. Donors can enter to win a shopping trip to Value Village, Northwest Center's 50th Anniversary Title Sponsor. Northwest Center and Value Village have been working together since 1967. Visit http://www.nwcenter.org to get a 50 Ways de-cluttering tip book and additional information about the program.
•Friday, April 24: The Derby - Attend an action-packed dinner and auction supporting Northwest Center Kids. The Derby event brings the best of the Kentucky Derby right to Seattle with mint juleps, a rockin' bluegrass band, southern cuisine, big hats and a bourbon tasting. Emcee and comedian Chris Cashman and auctioneer Fred Northup, Jr. will return to ensure another fun and memorable evening. See more details and purchase tickets at: http://nwcentergiving.org/donate/event/
•Sunday, July 26: Northwest Center Day at Safeco Field - Join Northwest Center for a day at Safeco Field celebrating the power of inclusion for people of all abilities. Tickets benefiting Northwest Center can be purchased at:
http://www.nwcenter.org/events.php#sthash.fkm65qYa.dpuf
•Monday, July 27: Bill Krueger Celebrity Golf Classic - Golfers can join the cause with this friendly round of golf at Bellevue's private Glendale Country Club. Teams of four players will be joined by a celebrity fifth player for a game, followed by a hosted lunch and beverages on the course, raffles and contests, apparel giveaways and a post-round dinner and awards presentation. http://nwcentergiving.org/events/golf-classic/
•Tuesday, October 6: Golden Hearts Luncheon - Celebrate half a century of revolutionary people, programs and vision at the Golden Hearts Luncheon at the Sheraton Hotel, Seattle. The mid-day event will include a special presentation of the William O. Ellison award to former Governor Dan Evans for his role in passing House Bill 90, the 1971 law Northwest Center's founders worked to enact, which became the model for the Federal Education for All Act of 1975. See more at: http://nwcentergiving.org/events/golden-hearts-luncheon/
Throughout 2015, Northwest Center will explore the struggles and triumphs that come when people with and without disabilities learn and work together through "50 years, 50 Stories Worth Sharing." Read the stories online at http://nwcenter.org/50stories and share the inspiration via social media.
Looking ahead to the next 50 years, Northwest Center is focused on a number of new initiatives including large-scale employment partnerships with major companies, creating a model for inclusion that can be adopted by early learning and other organizations throughout the region, and continuing to expand Northwest Center early intervention therapy in areas of need.
ABOUT NORTHWEST CENTER
Founded in 1965 by a group of parents determined to change the world, Northwest Center is a leader in advancing equal opportunities for people of all abilities. Northwest Center's mission is to promote the growth, development and independence of people with developmental disabilities through programs of education, rehabilitation and work opportunity. Northwest Center's award-winning Kids division provides early intervention, inclusive early childhood education, and after school programs. Northwest Center's Employment division provides job training, placement, and support for hundreds of outstanding employees. Northwest Center sustains its work through a unique social enterprise model that combines earned income from its own inclusive businesses, donations collected by The Big Blue Truck ™, program revenue, and philanthropy. Northwest Center touches the lives of nearly 1,000 families annually. For more information and to Join the Revolution: http://www.nwcenter.org