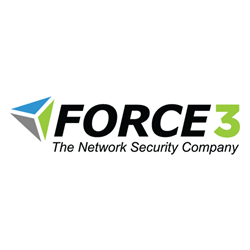 The launch of our new brand kicks off a new era at Force 3.
Crofton, Maryland (PRWEB) March 30, 2015
Force 3, the network security company, today announced the launch of its new brand identity in conjunction with the release of a new website at Force3.com.
To reinforce its position as a leader in providing secure design, deployment, maintenance and support solutions, Force 3's new brand is focused on meeting the complex security demands of today's federal government and commercial customers. The new brand identity includes a new logo, vision, and strategy that more specifically reflects Force 3's mission.
The new tagline, "The Network Security Company," captures the benefits that Force 3 provides for customers. Through its portfolio of solutions, services, and strategic partnerships, Force 3 protects networks and IT systems from relentless attacks and ever-evolving threats.
Force 3 has long been recognized as a leader in networking and security. The rebranding initiative leverages this experience and expertise while realigning Force 3's market position to more closely reflect its business strengths built over the past 24 years.
"The launch of our new brand kicks off a new era at Force 3," said Mike Greaney, Chief Executive Officer. "With a fresh look and feel, we are charting a bold new direction driven by the changing needs of our customers. To meet increasing security demands, Force 3's network security framework has evolved from silos of the past to a more holistic, deeply integrated approach. Now, our brand identity reflects Force 3's mission to secure success for all of our customers."
The new brand and website celebrates Force 3's culture of technical excellence, commitment to ongoing education and innovation, and dedication to the community of customers it serves. For more information about the new brand, please visit the all-new http://www.force3.com.
About Force 3
Force 3 is the network security company. We provide infrastructure services to design, deploy, support and maintain our clients' technology needs. Our team of passionate experts includes industry leading security professionals, with the highest levels of certifications, proficiencies and experience. We also boast the only dedicated support service offering in the Federal market, ensuring optimal uptime to keep your infrastructure running efficiently. Whether an enterprise network, mobility, collaboration, data center or next-generation solution – our highly trained engineers and strategic partnerships enable Force 3 to deliver secure solutions for agencies who demand value and reliability. For more information, please visit http://www.force3.com.