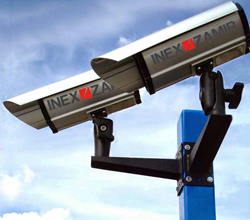 Supplementing Access Control and Security Systems with smart sensors, such as ALPR readers, creates new generation business solutions
New York, NY (PRWEB) April 01, 2015
INEX/ZAMIR and Building Intelligence agree to partner in offering a comprehensive solution for vehicle access. Combined with Building Intelligence's SV3, INEX/ZAMIR's License Plate Readers provide an easy to manage vehicle, visitor, and vendor management solution inclusive of reports and vendor portal. Workflows are matched to traffic flow through entry points, loading docks, and parking areas.
Building Intelligence's SV3 products provide a complete tracking system for entry points, loading dock management, and reservation. Combining License Plate Reading technology from INEX/ZAMIR many of these processes can be automated and captured in high-resolution images.
Roman Prilutsky, INEX/ZAMIR's CEO says, "Supplementing access control and security systems with smart sensors, such as ALPR readers, creates new generation business solutions capable of crime prevention rather than faster forensics. This is exactly what Building Intelligence and INEX/ZAMIR partnership brings to the market."
As a vehicle arrives, a security officer will receive a record of the license plate read on their SV3® Mobile Application. "Using SV3 with ALPR technology from INEX/ZAMIR, a security officer gets an understanding of whether that vehicle should be allowed on campus and that vehicle may be as far away as the process allows. Imagine a license plate reader capturing a vehicle at the beginning of a driveway, alerting a security guard of an uninsured or dangerous condition 30 seconds away. Those 30 seconds can mean everything." says Building Intelligence's CEO Jeffrey Friedman. "With INEX/ZAMIR cameras operating along the perimeter, you may be buying precious time to posture your security team."
From April 15 through April 17 2015, INEX/ZAMIR and Building Intelligence will be demonstrating the integration between the two technologies at ISC WEST Booth 6039 Sands Expo Center in Las Vegas, Nevada, US.
From April 22 to April 23 2015, INEX/ZAMIR and Building Intelligence will be demonstrating the integration between the two technologies at ASIS New York City Security Conference and Expo at the Javitz Center, New York NY.
Building Intelligence's SV3® is a cloud-based platform where users can schedule vendor delivery from a desktop or a smartphone. This allows for federated VIP lists and Watch lists requiring varying processes.
Most facilities lack security personnel in loading dock areas or service entrances. Many facilities are left dangerously vulnerable to contraband being smuggled in and assets being taken out. Combining the ANPLR technology with Building Intelligence's vehicle management solution, operators can establish schedules, watch lists and white lists. Utilizing license plate reading with SV3, the process of admission can be automated. Entry can be granted from a control room 100s of miles away.
Laurie Aaron, Building Intelligence's Executive Vice President went on to say, "Many facilities provide a tremendous opportunity to use a roadway to identify a vehicle. Using ALPR technology to identify a vendor, staff, or to let staff know that an unknown vehicle is arriving enables guards to be proactive. Handling logistics and managing security with this powerful combination of technologies generates new efficiencies and visibility to operations."
About INEX/ZAMIR INEX/ZAMIR, a well-known provider of world-class ALPR technology solutions. They are a privately owned group founded in 1993 as Zamir Recognition Systems, Ltd., and merged with INEX Technologies, LLC in 2006, with business and manufacturing offices in Knoxville, TN, Jerusalem, Israel, and a satellite sales office in Graz, Austria. INEX/ZAMIR provides a complete range of fully integrated automatic license plate recognition products designed for global marketplaces in law enforcement, parking management, and tolling, with a particular focus on commercial and government security. The INEX/ZAMIR solution provides guaranteed license plate capture – "any plate, any speed, any time of the day" – using a single source approach incorporating the industry's best imagers, processors, software and deployment applications, all developed in- house by INEX/ZAMIR. For more than 20 years, INEX/ZAMIR has continued to perfect the capture of license plate information creating a single system solution that reads license plates in real time, for real-world applications. For additional information, please visit http://www.inexzamir.com.
About Building Intelligence Inc.: Building Intelligence is a software company providing innovative technology solutions for security practitioners and building owners to manage visitors, vehicles and vendors. Building Intelligence Inc. is a privately owned business based in New York, NY. The firm's cloud-based solutions are known as Shortpath, SV3 and Secure Vendor, uniquely positioned to address a niche in the security market improving operations and lowering risk associated with the management of visitors and vendors as they enter on foot through the front door or in a vehicle at the loading dock or parking area. The modular solution set is being widely adopted in many major metropolitan markets and being sold, deployed and supported by an authorized security systems integrator channel with expertise in the identity and access management domain.