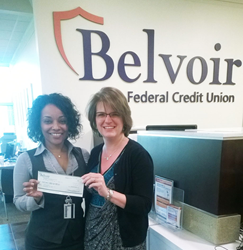 Woodbridge, VA (PRWEB) March 31, 2015
Belvoir Federal Credit Union awarded 5 members $1,000 for their participation in the 2014 CUXcel Contest: Hannah Bapple of Fredricksburg, VA; Leo Zerhusen of Fredericksburg, VA; William Harris of Alexandria, VA; Stacey Bell of Alexandria, VA; and Jonathan Reyes of Silver Spring, MD.
In 2014, Belvoir Federal Credit Union ran a contest tied to their high dividend earning checking account known as CUXcel, where 5 members with this checking account, who qualified for a minimum of 2 times within the 6 month contest, would be automatically entered to win $1,000 each.
CUXcel Checking is a rewards checking account that pays members a higher than average annual percentage yield on all balances up to $15,000 and rebates unlimited ATM surcharge fees when the member qualifies for the rewards on a monthly basis. The four qualifications on a monthly basis for members to receive rewards are as follows: receive eStatements, login to online or mobile banking, have a direct deposit ($500 minimum), and complete 15 debit card purchases and/or electronic bill payments. For more information, visit http://www.belvoircreditunion.org/checking.
About Belvoir Federal Credit Union
Belvoir Federal is a member-owned, full-service financial institution that provides the foundation for the financial success of our Members. Belvoir Federal, a not-for-profit organization, has served the Fort Belvoir and U.S. Armed Forces community since 1946 and has been awarded Best Places to Work in Virginia for 2014 and 2015. For more information about Belvoir Federal, please visit http://www.BelvoirCreditUnion.org.
###