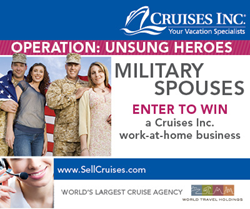 Being affiliated with a home-based business opportunity such as Cruises Inc. allows military spouses to do their job from anywhere in the world with an internet connection.
Fort Lauderdale, Fla. (PRWEB) April 01, 2015
Home-based business opportunity Cruises Inc.® recognizes the employment challenges military spouses face and has launched "Operation: Unsung Heroes," a contest where military spouses can win a virtual work-from-home business in the travel industry selling dream vacations. The contest begins on Wednesday, April 1 and ends on Thursday, April 30, with the winners being announced on Military Spouse Appreciation Day on May 8.
"Military spouses are truly unsung heroes and deserve recognition for all they do for their families and the sacrifices they have made," said Tim Courtney, vice president of network development and ambassador of veteran affairs for Cruises Inc. "With approximately 15 percent of our Cruises Inc. vacation specialists being military veterans and spouses, we see their potential for success and are committed to providing work-from-home business opportunities."
According to the 2014 Military Lifestyle Survey conducted by the non-profit Blue Star Families, a military family engagement organization and support network, 84 percent of those surveyed believed the military had negative impact on ability to pursue a career. In the same survey, 57 percent of the military spouses were not employed and more than half of them wanted to be.
"Being affiliated with a work-from-home business opportunity such as Cruises Inc. allows military spouses to do their job from anywhere in the world with an internet connection. It also opens the door for those spouses that don't have the time for a full-time job but still want to earn extra income," added Courtney. "Many of our military spouses use their extensive travel experiences and connections made from moving around the country to create a strong business foundation."
The Cruises Inc. contest is open to current or former military spouses who are at least 18 years old by the contest start date, Wednesday, April 1, 2015. To learn more about being a work-from-home vacation specialist and to enter the contest, please email name and contact information to sellcruises@wth.com and a Cruises Inc. business opportunity specialist will educate those interested about the company and the opportunity to become a Cruises Inc. vacation specialist. Eligible candidates are required to submit a 300-500 word essay that explains why operating a work-from-home business as a vacation specialist with Cruises Inc. is a great opportunity for the military spouse and their family, and how their passion for travel will result in a successful business.
Five grand prize winners will be announced on Military Spouse Appreciation Day, Friday May 8. Each winner will receive a Cruises Inc. home-based business opportunity, which includes a waived $249 initial start-up fee and virtual training that teaches how to run a successful work-from-home business.
Military spouses with a passion for travel who want the flexibility of working from home with the Cruises Inc. business opportunity should visit SellCruises.com or call 888-462-4992.
About Cruises Inc.®
Cruises Inc. is the original work-from-home travel business opportunity with independent affiliates nationwide since 1982. As part of World Travel Holdings, the world's largest seller of cruise vacations and an award-winning leisure travel company, Cruises Inc. affiliates are able to sell vacation packages from the comfort of their home. Cruises Inc. provides full training and ongoing support, along with low-cost marketing programs, websites, and innovative technology to position its affiliates for success. For more information on Cruises Inc., visit SellCruises.com and like us on Facebook at Facebook.com/SellCruises.
Contest begins at 12:01 a.m. ET on 4/1/15, and ends at 11:59 p.m. ET on 4/30/15. Void where prohibited. Open to current or former U.S. Military Spouses who are legal residents of U.S. or D.C., (excluding Hawaii, North Dakota, Oregon, Washington, Indiana, and Minnesota) are at least 18 years of age as of the start of the Contest Period, who have a computer and an internet connection. If selected as winners, contestants must commit to a Cruises Inc. home-based business, which requires attendance at a Virtual Initial Training Class (for more information, go to SellCruises.com or call 800-473-6687). Only one (1) submission per contestant. To enter, email your name, email and telephone number to 'SellCruises@wth.com' with the subject line 'Military Appreciation Contest' to move to the next round after a phone interview, Semi-Finalists must submit a 300-500 word essay. Submissions must comply with the Submission Guidelines in the Official Rules. Only complete, valid submissions will be accepted. Sponsored by Cruises Inc. 1201 W. Cypress Creek Rd. Ste. 100, Fort Lauderdale, FL 33309. Go to http://www.SellCruises.com/ for full Official Rules and details.
###