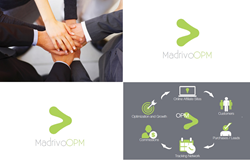 Both Mr. Bump and Ms. Lucas will greatly expand MadrivoOPM's current capabilities and expert client services.
Las Vegas, NV (PRWEB) April 01, 2015
Both Mr. Bump and Ms. Lucas will greatly expand MadrivoOPM's current capabilities and expert client services. A veteran of both traditional retail marketing and e-commerce, Mike Bump is an effective client representative with years of experience in helping advertisers increase their revenues and ROAS through a variety of cost-effective and innovative tools. His background includes over a decade of outsourced affiliate channel management in addition to IT managed services, e-commerce program launches, network sales, and business to business private marketplace sales and management.
Mike is a Certified Retail Marketing Consultant and leading expert in the creation and management of virtual sales teams, as well as e-commerce affiliate marketing programs. Before moving into technology-based commerce, he spent more than 25 years developing top sales and marketing teams within broadcast radio. Mike's experience in catering to client needs with the exact solutions necessary to meet their revenue goals makes him an invaluable asset to MadrivoOPM's growing advertiser roster.
Providing expert strategy leadership and affiliate partner management, Amanda Lucas is another asset in MadrivoOPM's arsenal poised to further enhance the agency's marketing muscle. With over ten years in the affiliate marketing management space with firms as varied as Partner Commerce, Schaaf-PartnerCentric, BookSpan, and Zip Search, Amanda is comfortable creating and launching affiliate programs and recruiting partners to promote a variety of blue chip accounts. Amanda's past clients have included eBay Partner Network (ePN), Dun & Bradstreet Credibility Corp, Register.com, Altec Lansing, and Quicken Loans.
Amanda's skills encompass generating strategies for proposed campaigns, affiliate recruitment & training, communications content generation, and client liaison servicing. She is a Google Adwords Certified Individual and Agency Council member of the Performance Marketing Association. Amanda's years of strategy generation and deployment will prove invaluable as the agency's clients seek out the latest methods to optimize their marketing efforts and revenue streams.
Madrivo is proud to welcome both Mike Bump and Amanda Lucas to their MadrivoOPM team.
About MadrivoOPM
MadrivoOPM's experienced management team, led by OPM pioneer and Managing Director Linda Woods, understands how to effectively run outsourced program management initiatives through decades of practice within the space. They have cultivated relationships with thousands of top affiliates seeking to offer the latest lucrative offers to their proven traffic streams. The agency also provides analytics assessments to advertisers, ensuring that all potential tracking issues are avoided and campaign creatives are optimized to deliver maximum ROI. In addition to overall management, MadrivoOPM makes sure that all of its client affiliate programs fall well within industry compliance laws and Best Practices, so that they are not only financially successful but legally approved. In the end, MadrivoOPM, with the aid of talented professionals like Mike Bump and Amanda Lucas, manages both sides of the affiliate-advertiser relationship on every level, ensuring financial success and trust-building for all parties involved.
Press Contact:
Ms. Sarah Dysthe
press@madrivo.com
3889 S Eastern Ave
Las Vegas, Nevada 89169
United States