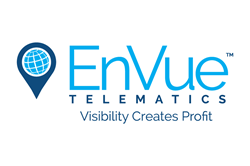 (PRWEB) March 31, 2015
Encompass Telematics has announced they are changing their name to EnVue Telematics in order to better reflect their vision for enhancing their client's abilities to manage risk exposure, reduce fleet operating expense, and improve the overall productivity of their transportation assets and the workforce assigned to use them.
EnVue Telematics is focused on turning comprehensive data into meaningful, easy to understand information that gets disseminated in a timely fashion to the appropriate people so that it is actionable. Timely information creates "visibility" and "Visibility Creates Profit".
EnVue Telematics is the leading provider of intelligent vehicle technology and integrated support services for enhanced fleet management. With more than 20 years of transportation industry experience and strong expertise in GPS/telematics technologies, the team at EnVue offers innovative telematics tools and safety devices to fit the needs of any commercial fleet. Easy to install, user-friendly solutions combined with powerful data collection and information technology make fleet and asset management simple and more precise than ever before.