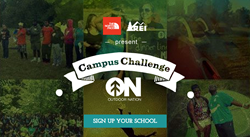 "Technology is not a hindrance to the outdoor community, but rather a catalyst"
San Diego, Ca (PRWEB) March 31, 2015
Digital Operative, a full-service digital marketing agency, signed for a second year to work with the Outdoor Nation as their Pro-bono project -- to engage college students and Universities in the outdoors through the Outdoor Nation Campus Challenge (ONCC). The six-week, head-to-head competition will take place in September and determine the National Outdoor Champion. The North Face will be a title sponsor for a second year, continuing its support of Outdoor Nation, which is an initiative of the Outdoor Foundation.
In 2014, the Outdoor Nation Campus Challenge had a social reach of over 2.5 million people including, students, faculty members, alumni and community members during ONCC. "We're thrilled to kick off the Outdoor Nation Campus Challenge for a second year," said Chris Fanning, executive director of the Outdoor Foundation, the organization that founded the Outdoor Nation initiative. "This year, we are engaging more college campuses, activating more young people and ultimately getting more Americans into the great outdoors." The 2015 Campus Challenge is looking to engage 50 colleges and activate 75,000 young people in outdoor recreation. Register for the Challenge from now through May 1, 2015.
Digital Operative continues to relentlessly pursue a successful strategy in which technology is used not only as a common medium for information sharing, but as further encouragement for others to pursue an active, outdoor lifestyle."Technology is not a hindrance to the outdoor community, but rather a catalyst" says B.J. Cook, CEO of Digital Operative. "As digital continues to grow and become a more integrated part of life; We want to be the architects behind connecting more people outside and making a change in the community." Digital Operative has designed and developed the Outdoor Nation Campus Challenge using their contestcore platform.
No matter the direction that is taken by Outdoor Nation, ultimately they are aware that it comes down to the willingness to seek their audience wherever they may be, outdoors or on social networks. For more information on the Outdoor Nation Campus Challenge, http://www.oncampuschallenge.org/.