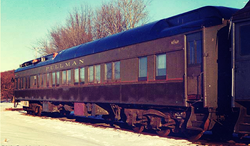 This auction provides an incredibly unique opportunity for other railroad museums, rail companies and train memorabilia collectors or enthusiasts
KANSAS CITY, Mo. (PRWEB) March 31, 2015
Steam power will soon be a reality once again at Mid-Continent Railway Museum. As part of the Steam-Readiness Program, choice items that no longer fit the focus or needs of the museum will be offered to the public at auction.
Conducted by United Country – Hamele Auction & Realty, in conjunction with United Country – Bill Perkins Auction & Realty, the live event will take place on-site E8948 Diamond Hill Road in North Freedom, Wis., on Saturday, May 2. Registration for the event will begin at 9 a.m., and the auction will take place at 10 a.m. An open house will take place on Friday, May 1 from 10 a.m. to 3 p.m.
Included in the auction will be rolling stock, equipment, car and engine parts, rail, steam engine tires, and a large assortment of artifacts and memorabilia from C&NW, Soo Line, Baltimore & Ohio, Canadian National, Illinois Central, Milwaukee Road, Burlington North, Monon and Rock Island..
"This auction provides an incredibly unique opportunity for other railroad museums, rail companies and train memorabilia collectors or enthusiasts," said Travis Hamele, auctioneer, broker and owner of Hamele Auction & Realty. "Rarely does a collection like this present itself to the public at auction. Our team and the folks at United Country – Bill Perkins Auction & Realty feel truly fortunate to participate in the once-in-a-lifetime event."
Some of the items featured at this live auction include:

Rolling stock: Steam engines, coach and box cars, caboose, steam/wrecker cranes, diesel-electric crane and tender.
Equipment and parts: LeRoi self-propelled air compressor, Gradall excavator, GMC truck, portable steam boiler and much more.
Artifacts and memorabilia: lanterns, conductor hats, collectible framed photos, old wall phones and teletypes, old suitcases, railroad dining china, boxes of date nails, timetables from various railroads, railroad dining menus, old railroad operations paperwork and much more.
Other: large 12-ft wide metal 'Chicago Great Western Freight Office' outdoor sign, elevated crossing shanty and HO model train sets (Brass, Disney and Marklin).
Detailed information about the property for sale, as well as auction terms and conditions, can be found online at HameleAuctions.com or by calling 608-742-5000.
About United Country
United Country Real Estate – a division of the United Real Estate Group – is the leading, fully integrated network of conventional and auction real estate professionals. The company has been an innovator in lifestyle and country real estate marketing since 1925. United Country supports nearly 600 offices and 5,000 real estate professionals across four continents, with a unique, comprehensive marketing program that includes the highest ranked and largest portfolios of specialty property marketing websites, the largest real estate marketing services company, an extensive buyer database of more than 500,000 opt-in buyers and exclusive global advertising of properties.