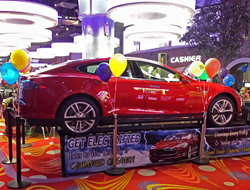 Reno, NV (PRWEB) March 30, 2015
On March 29th, one lucky player was crowned victorious in the Siena's "Guaranteed Tesla Giveaway". The drawing took place at 10PM on Sunday with a crowd of hundreds in attendance. At 10PM sharp the drawing barrel closed and one name drawn and called. A man slowly emerged from the crowd moments later. "Ken S." from Orangevale CA, struck with awe and disbelief, had just won a brand new Tesla Model S.
Ken made several phone calls to family and friends repeating, "I can't believe I won the Tesla!" Ken has been a Siena Rewards member since its re-opening in 2011.
The event was part of an ongoing promotion at the Siena Hotel Spa Casino. Though the "Guaranteed Giveaway" is completed, the "Tesla Triple Spin" weekly drawings will continue through June. Drawings are held every weekend (Fri-Sun) and six players are given an opportunity to spin the Tesla Triple Spin prize wheel for a shot at large cash prizes or a brand new Tesla Model S.
See http://www.sienareno.com/promotions for more details on the Tesla Model S Giveaway, as well as other contests and promotions at the Siena Hotel Spa Casino.
About Siena Hotel Spa Casino
The Siena Hotel Spa Casino is uniquely Reno's only riverfront Hotel and Casino – a privately held and family owned company. The property is located conveniently on the outskirts of downtown Reno/Midtown and is within walking distance of all the other downtown casinos. The Siena Hotel Spa Casino offers a wide variety of amenities such as casual and fine dining, a world class Spa and fitness center, a gift shop, and an intimately-scaled all inclusive casino. The Siena Rewards club allows players to earn prizes, comps and bonuses based on their patronage to the Siena Hotel Spa Casino. For more information, visit http://www.sienareno.com or call (877) 743-6233.