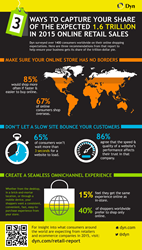 Online and mobile shopping is on the rise around the world, meaning more opportunity for revenue growth for retailers and eCommerce companies that meet consumer needs and expectations.
Manchester, NH (PRWEB) March 31, 2015
Dyn, the worldwide leader in Internet Performance, today released a survey finding that 95 percent of global IT executives report lost sales due to poor website performance. Executives went on to explain that these issues affect their websites anywhere from 25-50 percent of the time. However, only one-third are using cloud-based Managed DNS and Traffic Management solutions, despite the growing importance of online sales. These findings, which are the conclusion of a survey that spanned 300 IT executives across 11 countries, show that eCommerce leaders tie revenue loss directly to Internet Performance issues.
Of IT executives surveyed globally, 70 percent report that online sales represent half of their company's 2014 total revenue. Almost all (93 percent) 300 executives expect online sales to increase another 25-75 percent in 2015. As businesses scale to online audiences, respondents noted performance issues become a direct threat to revenue, as 75 percent reported their customers do not wait for slow-loading websites or try back later. Additionally, 86 percent of those surveyed acknowledge that customer experience is inconsistent across stores, online and mobile devices and 77 percent agree that a consumer's online shopping experience varies based on where they are located.
"Our study finds that most retailers and eCommerce companies recognize Internet Performance issues, because they can tie bad customer experiences back to lost revenue," said Kyle York, CMO, Dyn. "The good news is that Internet Performance is on their radar, but the downside is that too many IT executives seem to accept that customers will abandon sales if a website is down, slow to load, or performing inconsistently. Dyn is working to help these executives understand that they can actually reverse this trend, and regain lost revenue and reputation, by showing them how to deliver consistent, fast and secure shopping experiences."
Dyn's survey also finds that online sales are largely driven by international shoppers. More than two-thirds of respondents report between 25-50 percent of their sales originate in countries outside of the country in which their headquarters is located. This means it's increasingly more important to create a consistent and speedy customer experience regardless of location.
Another recent survey conducted by Dyn of 1,400 consumers from 11 different countries revealed that Internet retailers will need to provide better services if they want to see international online sales growth. In the past 12 months, 67 percent of consumers surveyed have shopped online with retailers located in other countries, and if it were faster and easier, 85 percent of consumers would consider doing it more often.
While 95 percent of IT executives surveyed understand that slow websites are resulting in lost sales and 77 percent agree that location affects the quality of a user's experience, it appears that executives are at a loss for how to solve service issues. Cloud-based Managed DNS and Traffic Management solutions are used by less than one-third of companies. Additionally, only 31 percent monitor the end-user experience for shopping apps and less than half have analytics or intelligence that monitor the path from the data center to customers, for issues like latency.
"Online and mobile shopping is on the rise around the world, meaning more opportunity for revenue growth for retailers and eCommerce companies that meet consumer needs and expectations," said Jim Cowie, Chief Scientist, Dyn. "This means ensuring traffic takes the most efficient route possible is more important than ever before. For this reason, monitoring tools that address latencies, traffic and the customer experience can mean the difference between a successful online presence and one that drives customers to the competition."
For the complete results of the survey visit http://www.dyn.com/2015-global-retail-report.
About the Research
Dyn commissioned a survey through the International Data Group (IDG) of more than 300 IT executives across 11 countries in North America, EMEA and Asia Pacific. IDG surveyed IT decision makers from retail and ecommerce companies with 250 or more employees with a requirement that all respondents have an understanding of revenue figures and forecasts.
In addition to the findings from this IDG survey, this report also contains finding from a survey of more than 1,000 consumers in the same 11 countries to demonstrate any notable differences in consumer expectations in comparison to what the surveyed IT executives are experiencing.
About Dyn
Dyn is a cloud-based Internet Performance company. Dyn helps companies monitor, control, and optimize online infrastructure for an exceptional end-user experience. Through a world-class network and unrivaled, objective intelligence into Internet conditions, Dyn ensures traffic gets delivered faster, safer, and more reliably than ever.
Dyn is the leading Internet Performance provider to the most visited web properties in the world, as measured by the Alexa 500. Dyn delivers more brand loyalty, customer satisfaction, and increased sales from startups to Global 2000 companies and businesses in between. Dyn is Internet Performance. Delivered. Visit dyn.com for more info on how Dyn delivers.