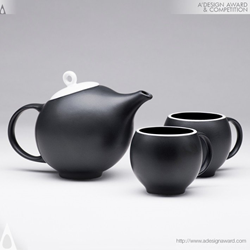 Como, Italy (PRWEB) March 31, 2015
A' Design Award and Competition is pleased to announce that the design project EVA tea set by Maia Ming Fong has been announced as a winner of the Golden A' Design Award in Bakeware, Tableware, Drinkware and Cookware Design Competition Category.
More on EVA tea set
Maia Ming Fong, the lead designer of the award winning Kitchenware work EVA tea set explained "This seductively elegant teapot with matching cups has an impeccable pour and is a pleasure to partake from. The unusual shape of this tea pot with the spout blending and growing from the body lends itself particularly well to a good pour. The cups are versatile and tactile to nestle in your hands in different ways, since each person has their own approach to holding a cup. Available in glossy white with a silver plated ring or black matte porcelain with a glossy white lid and white rimmed cups. Stainless steel filter fitted inside. DIMENSIONS: teapot: 12.5 x 19.5 x 13.5 cups: 9 x 12 x 7.5 cm." Learn more at: https://competition.adesignaward.com/design.php?ID=31551
Creative Team for EVA tea set
EVA tea set was realized by Maia Ming Fong (designer) and Claudi de José (modelmaker)
The Golden A' Design Award
The Golden A' Design Award is a prestigious award given to top 3% percentile designs that has accomplished an exemplary level of sublimity in design. The designs are judged by a panel of three different jury which is composed of Academic, Professional and Focus Group Members. The designs are evaluated with score normalization to remove any biases and are voted on aspects such as functionality, ergonomics, engineering, presentation, innovation, usability, fun details, technology, and any other specific points that could be considered, each of these points are further weighted for different jury groups. Laureates of the A' Kitchenware Design Awards are listed at Designer Rankings.
About A' Design Award and Competition
A' Design Award and Competition aims to highlight the excellent qualifications of best designs, design concepts and design oriented products worldwide. A' Design Award and Competitions are organized and awarded annually and internationally in multiple categories to reach a wide, design-oriented audience. The primary aim of the design accolade is to create a global awareness for good design practices and principles worldwide. Learn more about the design competition here: http://www.whatisadesignaward.com