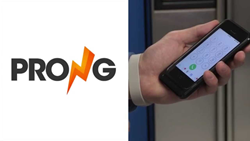 (PRWEB) March 31, 2015
"Prong" was featured on NewsWatch as part of its monthly Tech Report, which features the latest and coolest technology products available to consumers. Scott Steinberg, a technology expert and special reporter for NewsWatch, conducted the review and shared with viewers how this phone case ensures that users will always have a charge.
Everyone knows that feeling when their phone is running out of power and they don't have a charger. Well, there's a new phone case that is a solution to this problem. The PWR Case by Prong is a durable polycarbonate smartphone case that features a detachable battery integrated with a very slick wall charger.
The case works like any other phone case, but when the user needs to charge their phone, they just detach the battery, unfold the prongs, and stick the battery part into the wall outlet. The perks to having this phone case is that there aren't any loose wires, there isn't a charger, and the user doesn't have to stand by the wall while their phone charges. Additionally, the PWR case comes with a microUSB port for when the user is in their car or at their desk and have cord accessible.
Prong also offers the PocketPlug, a plug in only version of the case. The PocketPlug case, too, comes with prongs that are unfolded to plug into a wall with no wires. The PocketPlug case is compatible with the iPhone 4 through the 5s and sells for $39.95 while the PWR case is compatible with the 5 and 5s and goes for $99.95. Each of these phone cases come in multiple colors.
To learn more, visit http://www.prong.com today.
About NewsWatch
NewsWatch is a weekly 30-minute consumer oriented television show that airs on the History Channel, FYI Network, and ION Network. NewsWatch regularly features top technology products and services, mobile applications for iOS, Android, and Windows devices, unique and beautiful travel destinations around the world, health and medical tips, and entertainment interviews on the show. NewsWatch airs on the History Channel at 6:00 – 6:30 AM ET/PT and on the FYI Network from 7:00 – 7:30 AM ET.
NewsWatch is located in the greater Washington, DC area and has been on air for over 25 years. For more information or to watch the most recent episode, visit http://newswatchtv.com/tech-report.html.